VR Architectural Visualization Services
Here is a list of options of our virtual reality architectural services that can be tailored to meet your company's needs.
It may sound obvious, but there are a lot of those who don't know
Benefits of VR Architectural Visualization Technology in Real Estate
Saves Time
This is probably the biggest benefit – VR architectural visualization save time for both clients and realtors. Thanks to VR, there's no need to travel from one place to another. Instead, clients can simply put on VR headsets and enjoy immersive three-dimensional tours.
Instant Sense of Ownership
Nudging clients headed for making a purchase or signing a rental agreement is the most challenging task for most real estate agents. And that's when VR home tours come in handy, because VR places users inside a whole new world, the experience is like one being transported. Picture the impression your best show home makes when being viewed for the first time.
VR is more than just a walk through. Interactivity includes changes to walls, flooring, fabrics, counters, and even furniture models and layout. Give your prospects the rewarding hands-on experience of making a home their own.
Capture Every Angle
VR architectural visualization can take users on a tour of your property, including interiors and exteriors. Remember, this is a medium that effortlessly lets users visit as they want whenever/wherever. Apply that functionality to your show home and you'll offer an experience that transforms home sales into an amazing journey.
Saves Money
Virtual reality helps you save a lot of money by using the power of 360° videos and computer graphics, showing homes, scale models, and printed collateral – all of which need to be redesigned and remade when concepts change. Today, making a guided video tour around a property requires just a panoramic camera and basic rendering.
Offers Global Reach
VR architectural visualization has the power to reach anyone in the world within minutes. Real estate agents know quite well how much time each client requires. Arranging visits, showing properties, negotiating terms and prices – all of these tasks are extremely time-consuming.
Virtual reality can change this. Since most properties can be shown through virtual tours, realtors can work more productively. Of course, this means you can work with more clients and develop more inquiries.
A Small Section of Our Latest 3D Animation Work
It's guaranteed that the final product will be what you expect.
VR ARCHITECTURAL VISUALIZATION SERVICES WORKFLOW
STEP 1. STORYBOARD/CAMERA PATH
This is an optional stage for large scale projects where we search for the best way to present your product or project.
Together we work on the main concept or idea behind the video. To further develop the concept we use drawn storyboards or photo collages. They give us basic understanding about timing, characters, objects, cameras, narrative.
Our goal is to catch viewers mind, create emotions and atmosphere. Also at this stage, we collect image and video references which help us convey our idea.
* You will be required to sign the storyboard confirmation before moving to the next stage.
STEP 2. 3D MODELING PHASE & CAMERA SETUP
a. Analyze CAD plans, sections, etc. for technical details of project
b. Create 3D models
c. Create 3D environment
d. Setup scene layout
e. Create additional and supporting details
f. Determine the number of cameras to be created according to the Animation Sequence provided by clients
g. Create and set cameras
h. Create camera animation rigs and paths for animation script
i. Set the timelines and durations of shots per camera
Since animatic looks really sketchy it accompanied by mood references usually.
STEP 3. KEY FRAMES (TEXTURING, LIGHTING, SCENES ETC.)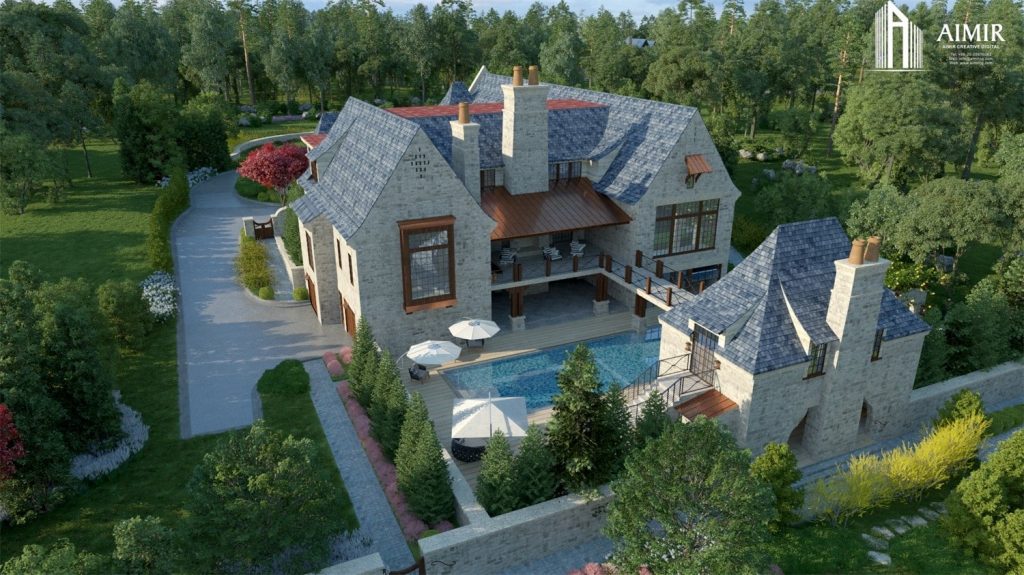 a. Set the color theme of the environment, buildings, exterior, interior, and associated models
b. Texture the environment and 3D models
c. Exterior day mode lighting setup
d. Interior mode lighting setup
e. Background music for the animation
Finishes specification or material samples would help us greatly to speed things up. We also add vegetation and nice small details into the scenes.
* You will be required to sign the model & camera path confirmation before moving to the next stage..
STEP 4. 3D RENDERING, MOTION GRAPHICS (PARALLEL TASKS)
a. Create raw 3D output data for compositing
b. Visual effects
c. Motion graphics
d. Transitions
STEP 5. POST-PRODUCTION
STEP 6. AUTHORING AND DELIVERY
Final video on the required resolution. 8-bit/16-bit color. MP4 or MOV format.
STEP 7. PROJECT SUMMARY SURVEY
After we finish every project, we always do a summary for go over the problems, if there is any, and think about how we can do it better next time. You will also be asked to fill a Client Satisfaction Survey to rate our service and provide feedback. All are aimed to provide you better service next time.
Let us know if you've got an interesting project and want to work together!