Generally, architects devote themselves to designing practical and distinctive buildings. It's known to all that practicability is one of the important elements of buildings. Nevertheless, there is an architect who gets rid of realistic factors and is keen on creative and fanciful buildings. His unusual buildings below attract people to join him to create a world full of anti-reality.
An Anti-reality Building with Rooftop Pool
We might dream of swimming in a rooftop pool of a seaside summer house where we can have a great time. It seems unreal, but surprisingly, such a peculiar building exists in reality. This 85 square meter house located on a rocky waterfront, it consists of a living quarter and a rooftop pool.
It can be divided into several parts including a kitchen, a bedroom, a living room, and a dining room. They all under one roof in an open space, but you can change the entire space structure by using the movable panels, forming three independent spaces to protect privacy.
Besides, the house has large panoramic windows and a walkway around the house for the best views. There's a ladder on the cliff that's the way up to the rooftop swimming pool. As for the swimming pool, it's a triangle-shaped structure but has been put upside down. By doing so, it forms a nice swimming pool where can be filled with water and take a bath in the rosy sunset over the sea as well as enjoy the view.
Enter the Architectural World of Anti-reality
Someone may be suspicious of the operability of such an amazing anti-reality building. Don't worry about that. It's the thoughts that really matter. Actually, he has many other fanciful design concepts, just like kids' whims. Let's look at these eye-opening buildings below.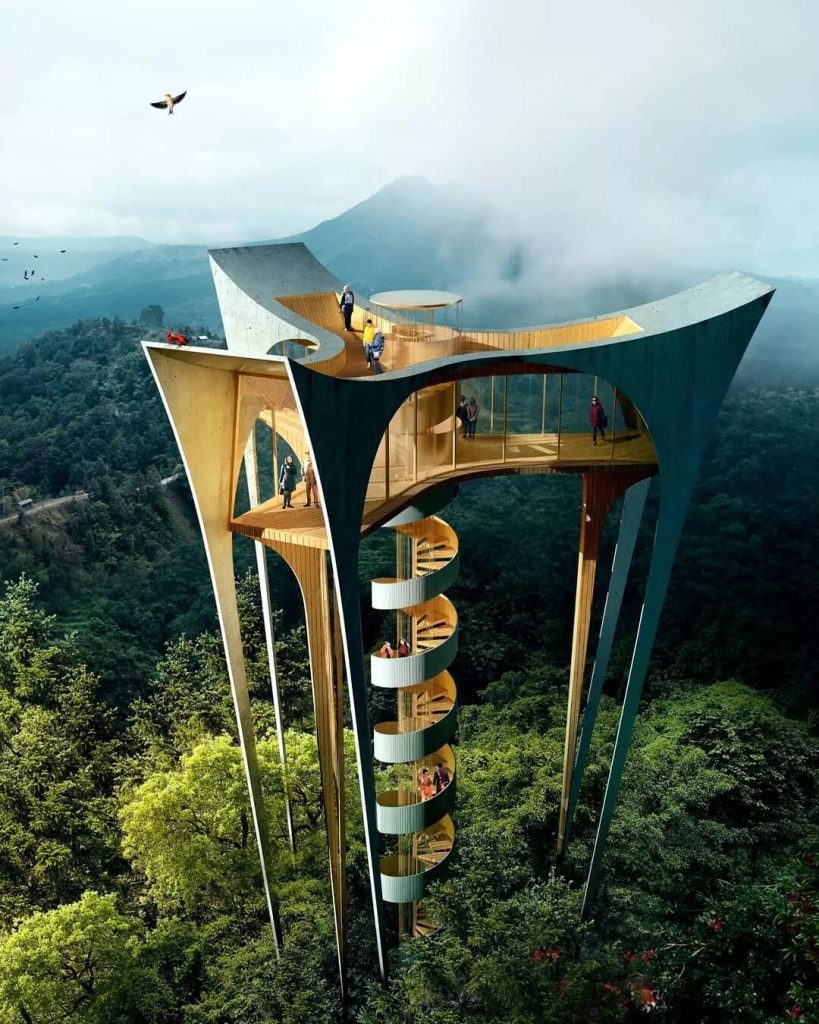 Anti-reality is a concept based on abstract objects. It is a world without realism and pragmatism, where architects concentrate on exploring some ideas that can't come true yet exceptional. It inspires not only the exploration of nonstandard ideas but also visual expression. Without limitation and standards, it is an experimental space between the dream and reality.
Let's take a deep breath and appreciate the fantastic and romantic world. Those buildings indeed touch our hearts although they may never be built in real life. And sometimes, life is not only about the pursuit of those useful things but about those seemingly useless things. It is these useless things that make life enjoyable.
Nature is one of the important sources of inspiration. Not only we can find interesting ideas from its structure but also the way it makes creatures. It's an exciting experience to balance reality and architecture concepts.
The anti-reality designs are really mind-blowing and refreshing. Do you find them inspiring? Please do not hesitate to leave your comments with us. If you want to visualize your stunning concepts or anti-reality design into reality, you're more than welcome to contact AIMIR for professional help.