Project Background
In June 2019, Xiamen New Airport was approved by the State Council and the National Development and Reform Commission, kicking off a new round of comprehensive development and construction. As an important regional integrated transportation hub and a major airport for exchanges with Taiwan, Xiamen New Airport Area will become an important engine to drive regional development, taking the lead in regional upgrading and development.
Xiamen Municipality has included the construction of Xiamen New Airport in key projects of the strategic Belt and Road Initiative. Xiamen is located at the eastern end of the 21st Century Maritime Silk Road, covering most parts of East Asia, Southeast Asia and South Asia within its 3,000km aviation radius and enjoying unique advantages in ports, trade, investment, overseas Chinese, culture, history and people-to-people exchanges, etc. Xiamen New Airport will serve as a regional hub and an important gateway airport. The construction of the new airport area will contribute to the connectivity and common prosperity of China and Southeast Asia, South Asia and the Indian Ocean, further facilitating the implementation of China's open-up strategy and the building of a strategic pivot city of the 21st Century Maritime Silk Road.
The new airport area, as a regional integrated transportation hub and economic & cultural center, is sited 1 hour away from the urban core of Quanzhou and Zhangzhou and 2.5 hours away from all areas of the three central cities of Haixi Economic Zone, i.e., Xiamen, Zhangzhou and Quanzhou. The construction and operation of Xiamen New Airport will promote the joint development of infrastructure and industries etc. in the three central cities.
As China's important port for foreign trade and window for opening up, Xiamen is tasked with multiple reform missions such as the Special Economic Zone, and the Pilot Free Trade Zone. Xiamen Special Economic Zone, established for Taiwan, focuses on Taiwan-related initiatives, which is not only an important historical mission entrusted by the Central Government but also a major advantage and potential for Xiamen's development. Xiamen New Airport, as a major airport for cross-strait exchanges, will be developed into an important carrier for cultural exchanges and coordinated development between Fujian and Taiwan in the future, further promoting cross-strait cultural exchanges and integration, and driving cross-strait industrial cooperation and common prosperity.
Project Location
Xiamen New Airport Area is sited at the southernmost tip of Xiang 'an District, Xiamen, about 25km away from downtown Xiamen, 44km away from downtown Quanzhou, 72km away from downtown Zhangzhou, and 5km away from Jinmen Island. It is an important node on the urban development belt around Xiamen Bay Area.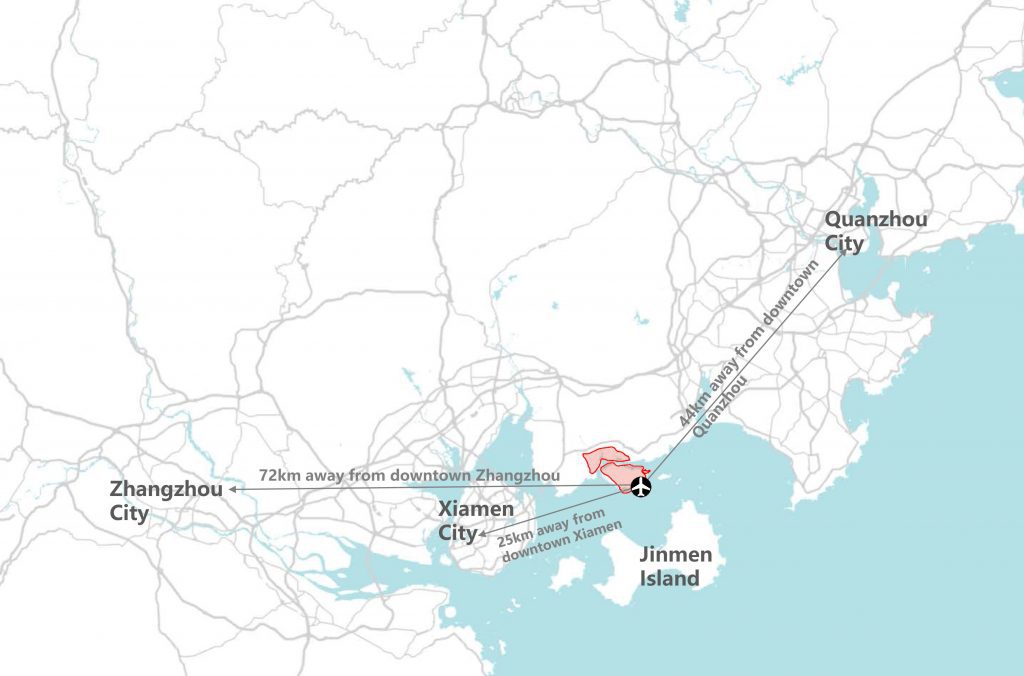 Work Content
The design scope of the Competition consists of general urban design scope and key area urban design scope.
General urban design scope
The general urban design scope includes Lianhe, Caicuo, Dadeng, Airport land reclamation area and Xiaodeng Island. It is defined by Xiang'an South Road on the north, airport boundary on the south, district boundary on the east, and branching stream waters on the west, covering a total land area of about 62 km2.
Key area urban design scope
The key area, ranging between 10 and 15 km2, can be defined within the general urban design scope, according to the designers' own planning concepts. The preferred key area urban design scope includes but is not limited to the areas along the major roads to Xiamen New Airport (Jichang Avenue, Xidong Road, Airport Expressway), coastal areas, and both banks of Dadeng north waters.
Registration Requirements
Comprising two phases, namely, open call and selection of design teams, as well as proposal preparation and evaluation, the Competition intends to solicit design teams from home and abroad to submit registration documents and conceptual proposals as per the Work Rules and Design Brief of the Competition. Six design teams will be selected through the expert evaluation meeting organized by the Hosts to proceed to the subsequent phase of proposal preparation and evaluation.
The Competition sets no qualification requirements. Both domestic and foreign design firms may register for the Competition. Registration in name of consortium is acceptable and there is no limit on number of its members. Registration by individuals or teams of individuals will not be accepted. No members of a consortium are allowed to register again either as an individual design firm or as the member of another consortium.
Design teams, either from home or abroad, must be an independent legal entity with legally registered and effective business license. For two or more legal entities that have one same legal representative, their parent companies, wholly owned subsidiaries and holding companies are not allowed to register for the Competition at the same time.
Design teams with the following project experience will be given prioritized consideration:
Multi-disciplinary research ability and practical experience in urban design for airport areas, transportation hub areas, key areas, and coastal cities;
Extensive design experience in urban planning, urban design, building appearance, and public spaces, etc.
WORK RULES
The Competition includes two stages, namely open call and selection of design teams, and proposal preparation and evaluation.
Note: The timetable above is subject to Beijing Time. The Hosts may adjust the dates and the ways to conduct site visits, Q&A meeting and evaluation meetings as may be necessary.
Prizes
Design teams will provide eligible submissions within given time frame in accordance with the requirements specified in the Competition Documents. The Evaluation Committee will review and rank the design proposals submitted by the six selected design firms which will be awarded the following honoraria (tax-included):
The First Prize (1 winner): RMB 6 million (¥6,000,000.00), including RMB 4 million (¥4,000,000.00) as compensation and RMB 2 million (¥2,000,000.00) for subsequent proposal consolidation;
The Second Prize (1 winner): RMB 3 million (¥3,000,000.00);
The Third prize (1 winner): RMB 2 million(¥2,000,000.00);
Other finalists (3 winners): RMB 1 million each (¥1,000,000.00).
The announcement of the international competition (tender) is released. Local and international design teams are welcome to make a pre-registration with us. If you want to know more about this pre-registration information, please feel free to contact AIMIR.
What's more, you're more than welcome to touch base with us if you need architectural visualization. Looking forward to hearing from you soon.