Background
Located between the built areas of Xi'an and Xianyang in Shaanxi Province, Xixian New Area is the seventh national district approved by the State Council, and the first National New Area themed on innovative urban development. It shoulders the key mission of the national strategy to create an important hub for China's opening to the west, a new engine for development of west China, and an example of new urbanization with Chinese characteristics, and serves as a major window of the innovation-driven Qin Chuang Yuan Platform of Shaanxi.
Fig. 1 Rendering of the major axis
Located in the center of Guanzhong's urban clusters and Xi'an metropolitan area, the Energy Finance and Trade Zone (including Energy Finance and Trade Area and Cultural and Educational Park Area) is the core area of the new center and new axis of the Greater Xi'an. It is also the only functional area featured by energy finance in Shaanxi Pilot Free Trade Zone, assuming the important function of developing Xixian New Area into an important financial, business and trade core area in northwest China. At the same time, the Energy Finance and Trade Area, as a pioneering area of Qin Chuang Yuan, will contribute to building a leading source and platform of innovation-driven development across the province, and produce a strong impetus for high-quality development in Shaanxi Province.
Fig. 2 Location of the Energy Finance and Trade Area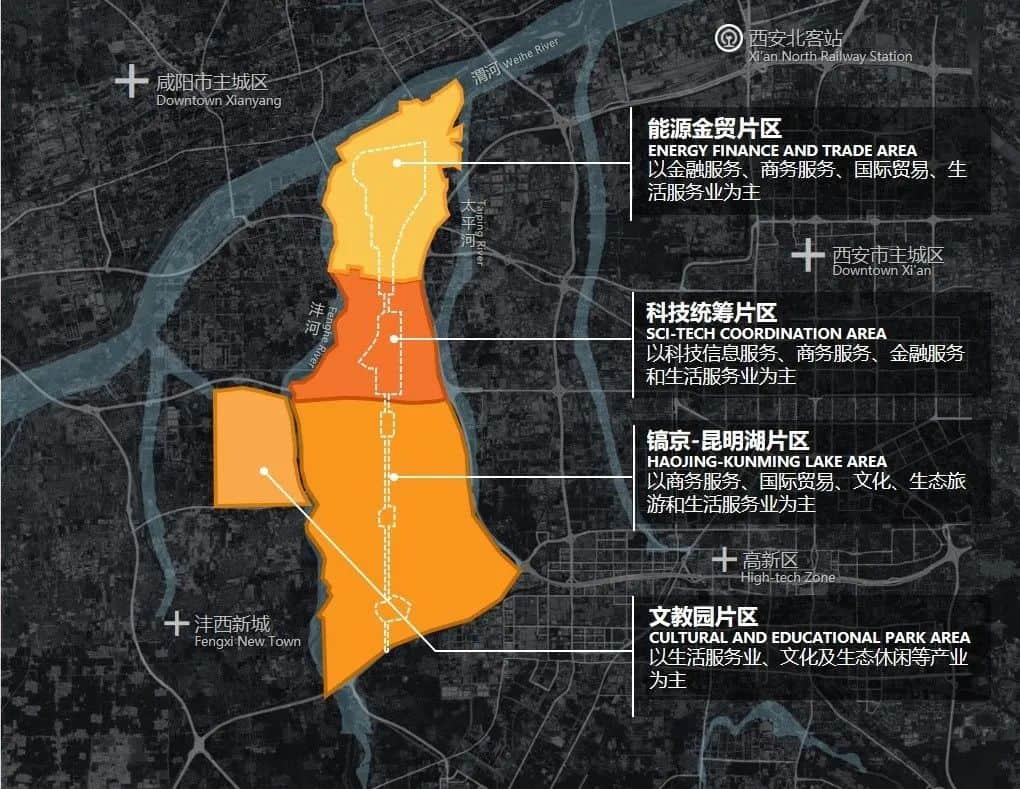 Fig. 3 Function block diagram of the major axis
As the core area and main location for developing the new center and new axis of the Greater Xi'an, after years of intensive efforts, the Energy Finance and Trade Zone has achieved fruitful results. Among all, Jinwan Sci-tech Innovation Area focuses on headquarters economy, emerging finance, business and trade services and scientific and technological R&D. Thanks to its prominent location, transportation, ecological advantages and high-quality built space, it is becoming an attractive industrial and talent destination in the region.
Fig. 4 Rendering of the Energy Finance and Trade Area
Fig. 5 Photos of Energy Finance and Trade Area
Public cultural facilities are important carriers for inheritance and development of urban culture. In order to further upgrade the overall service capacity of Xixian New Area, and create a high-quality new center and new axis for the Greater Xi'an, Xixian New Area has decided to accelerate the construction of the Civic Center in Qin Chuang Yuan Jinwan Sci-tech Innovation Area, and make it an urban parlor with international influence, an important showcase of the new center and new axis of the Greater Xi'an, a lakefront activity center for citizens, and a new urban culture landmark. In the future, the Civic Center will significantly demonstrate the competitiveness and strength of the new area in urban culture, realize the cultural rights and interests of the people for a better life, enable the sharing of the development outcome by all, and make public culture the most eye-catching highlight in the urban backdrop of Xixian New Area.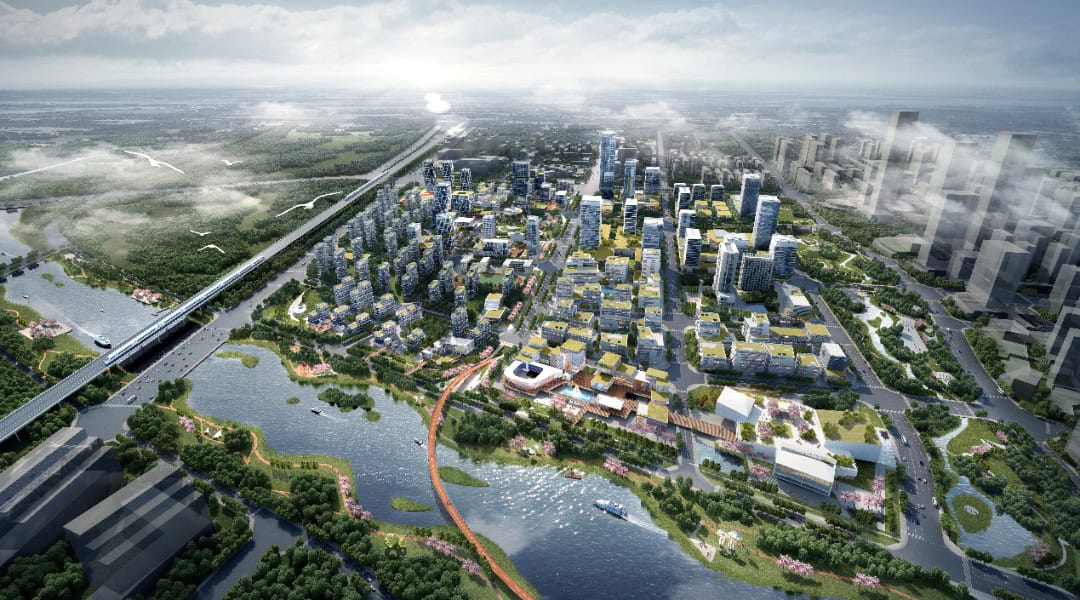 Fig. 6 Rendering of Qin Chuang Yuan Jinwan Sci-tech Innovation Area
Work Scope
Design coordination scope: about 100 ha to be coordinated, connected and designed as a whole with the surrounding plots, including the four museums and one pagoda, and both sides of the east-west green corridor in Jinwan Sci-tech Innovation Area.
Architectural design scope: about 18.5 ha. in total for conceptual architectural design, including three plots and the surrounding green space, namely:
Plot I: Sci-tech Center
Sci-tech Center (site: 3.83 ha, above-grade floor area: 60,000㎡) focuses on Science and Technology Exhibition Center, and includes Youth Activity Center, Women and Children's Activity Center, small theater, etc;
Plot II: Culture Center
Cultural Center (site: 2.66 ha, above-grade floor area: 40,000㎡)focuses on cultural and art blocks and leisure commercial streets, and includes performance center and library;
Plot III: Sports Center
Sports Center (site: 4.01 ha, above-grade floor area: 60,000㎡) focuses on national fitness center, and includes natatorium and outdoor sports venue;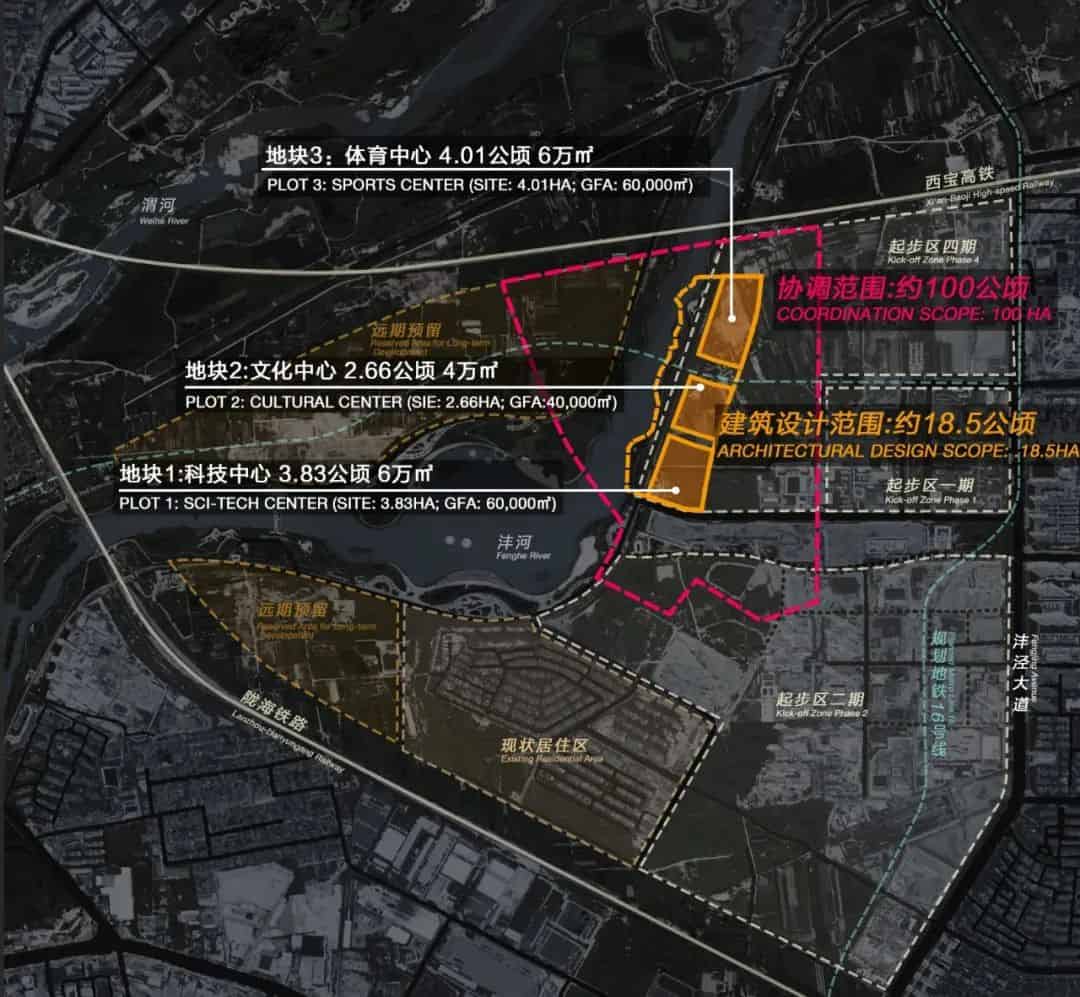 Fig.7 Design scope
Registration Requirements
(1)The Competition is open for registration by design firms around the globe. There is no qualification requirement, and design firms from both at home and abroad are welcome. Individuals and individual consortium are not allowed for registration;
(2)The design firms may register for the Competition in "1+N" format: "1" refers to the chief architect / coordinator team responsible for the overall design and coordination of the three plots. To enhance the diversity in architectural ideas and the viability of implementation, it is suggested to join hands with "N" team(s) specialized in cultural planning, business operation, architectural design, and landscape architecture. Where the three plots are designed by different chief creative teams, the specific plot each team works on shall be indicated;
(3)Design firms applying for participation must be an independent legal entity, or a partnership enterprise or organization in other forms. Different firms chaired by the same person or involving shareholding and management relationship are not allowed to register at the same time;
(4)Design firms inside Chinese Mainland must be legally registered independent legal entities with valid business licenses;
(5)Design firms outside Chinese Mainland (incl. those from Hong Kong, Macao, and Taiwan regions) should provide the following verification materials: company registration certificate approved and issued by competent authority of the country (region) where the design firm is located;
(6)Consortium is allowed to participate in the Competition without limitation on the number of consortium members, while Consortium Agreement is required to specify the leading party and obligations of each member. Member of a consortium is not allowed to participate in the Competition separately by its own name, nor join other consortium at the same time;
(7)The project chief architect must have innovative design philosophy and experience in projects of the same type as the competition project, and directly participate in the whole process of the Competition including key milestone meetings (including but not limited to design presentation and Q&A) required by the Host. During the Competition, if the project chief architect is found inconsistent with that specified in the registration materials, the Host will be entitled to disqualify the design firm from shortlisting or bid winning, and may hold it for liabilities as per relevant regulations.
Schedule
This Competition includes three stages, i.e. Registration and prequalification; concept design and evaluation; and concept development and bid finalization.
Note: The above timetable (Beijing time) is tentative and subject to adjustment by the Host.
Prize and Stipend
The First Place: RMB 4 million (about US$567,300), tax included (including fee for concept development stage);
The Second Place: RMB 3 million (about US$425,500), tax included (including fee for concept development stage);
The Third Place: RMB 2 million (about US$283,600), tax included (including fee for concept development stage);
The Forth and Fifth Place: RMB 1.5 million (about US$212,700) each, tax included (including fee for concept development stage);
Other finalists (seven): RMB 0.8 million (about US$113,400) each, tax included.
Downloading of Competition Document and Appendix
link: https://pan.baidu.com/s/1j8m3QVtkpPUpO_a2U0bRcQ?pwd=v1cb
code:v1cb
The announcement is published on AIMIR's website now. If you want to know more following details regarding to this competition, please feel free to contact AIMIR. What's more, you're more than welcome to touch base with us if you need architectural visualization.