These beautiful images are high-rise architectural rendering we created for a stunning proposal in Nigeria. Awe-inspiring, wouldn't you say?
Located in Abuja, the capital of Nigeria, Tower of Africa, or TOA is envisioned as a lifestyle hub. This structure will foster a unique culture and community, bringing together people to exchange cultural ideas and values.
It is not true to say we didn't enjoy creating 3D renderings for this head-turning project. This is not only an incredible inspiration for our 3D team, also a fun and learning experience for both our client and us. Now, let's take a tour to the making of TOA. In this article, you'll see how we created the 3D model and incorporated it into the photo. You'll also learn about the architectural visualization process of a large and complicated project. Are you ready? Let's dive!
Tower of Africa
Everything starts from the above concept. The architect, Tarek Barhoum from DCA arranges five organically-shaped volumes to form the structure. And these volumes emulate Abuja's rock formations, with a similar texture and essence. Meantime, TOA has a biophilic design. This design connects the tower more closely to nature. To achieve this, the architect smartly combines elements such as natural lighting, natural landscaping and other green elements.
Practically, this mixed-use project is appealing to a broad range of people. It features cultural and conference centers, retail spaces, commercial areas, and unique recreational facilities. Also the building has a distinctive market hall and exclusive dining options. The development includes three skyscrapers, one of which is Africa's tallest at 566 meters above ground level. High-end office spaces, luxury hotels and hotel residences with full amenities, as well as top-quality residential units are included in the plan.
In all, it is a sleek and futuristic high-rise tower development. And the 3D rendering task was to demonstrate the state-of-the-art skyscrapers as well as the structure details in accurate and appealing surrounding context.
High-rise Rendering Workflow
#Stage 1. The Brief and Scope of Work
Using architectural visualization as the tool to demonstrate the unbuilt structure is not a secret in architectural industry. But before that, there should be a clear and complete brief. The design team shared us the following information:
This undetailed model provides necessary information of the three towers. This includes the height of each tower and the podium sections. It is not ready to use of course, because our 3D modeler would take care of it with the help of other CAD design plans.

The CAD drawings helped us to understand the design details of the structure. With the help of them, our 3D modeler were able to build a proper 3D model.
High-resolution site photos are great help with full information. On one hand, they provide an immersive experience to understand the site. On the other hand, 3D artists can use high-res photos as a way for photomontage to get 100% accurate surrounding context for project.
Before a project starts, our professional project manager always select some of our works to share with the client. These works somehow have the similar design or client's desired mood or view. For TOA, we shared some commercial high-rises that have beautiful sleek glass façade. As a result, our client pointed out some of the renders to use as references for TOA. They like the mood, the material, the overall atmosphere, or the camera angle. 
To complete the design, the architect sent us some supporting information. As you can see, they enrich the design details such as section schedule, façade design plan, and monorail train reference.
Our client were looking at the following views:
An aerial view. A master plan view to incorporate the project with the surrounding environment.
Two southwest views. A same southwest view to show elevation in both day and night mood.
A semi-aerial close-up view. This is a night view to show specifically the middle of the tower.
One street level view. Focusing on the entrance and podium, the eye-level view has a vibrant shopping atmosphere.
Another bird's eye view of our suggestion.
#Stage 2: Creating 3D Model
With all information at hand, our 3D team started building the 3D model. In fact, it was actually a refinement of the current massing model. This included inputting the model into 3ds Max, adding details based on the CAD plans, and setting camera angles.
After the 3D model was ready, we random got some screenshots to share with our client. In the first round, our client needed to check the details of the model.
Having viewed the drafts, the designer asked us to:
Remove all mullion that are over all the handrails;
Set back handrails for 40cm to the back away from the curtain wall;
Add mullions and pivoting doors on the podium;
Add floor and border detail on terrace.
Our 3D artists made corresponding adjustments. This time, we shared the camera angles with adjusted 3D model. So, in this round, the architect needs to confirm both the model and the views. Luckily, the designer was pleased with the outcome. Just after another round of camera view adjustment, the final 3D models are confirmed!
#Stage 3: Applying Materials, Textures, Lighting and Post-production
Once the camera angles and 3D model were confirmed, our 3D artists proceeded to color the scenes. By doing this, the 3D specialists needed to apply materials on the model, setting lighting, and post-produce them to refine details.
To support our client's vision, which is to create a healthy environment for people, we strive on the landscape details. Since our client was not able to provide high-res drone photos for photomontage, we had to use the images from Google Earth. There was a compromise on resolution. However, this was the best way we could help our client. Apart from this, we pay attention to the balance between the Google image and the building. Only when the colors and atmosphere are consistent that we can create a good render.
The other thing we did was to create a dynamic commercial mood by adding activities. This included people shopping, cars passing by, people playing on plaza, and other activities. After finishing all these, we shared the colored drafts to the architect. Below are the drafts we shared:
Our client replied with comments such as:
Delete the greenery from top 4 platforms on all towers;
Light up the context to balance the composition in one of the views;
Add more cars on loading area;
Remove some of the furniture in the podium in one of the views.
When we made all the requested adjustments, the designer was pleased with the outcome and said they're ready for usage. This means we could output the high-res final images! Please check out the final delivery with 8k renders!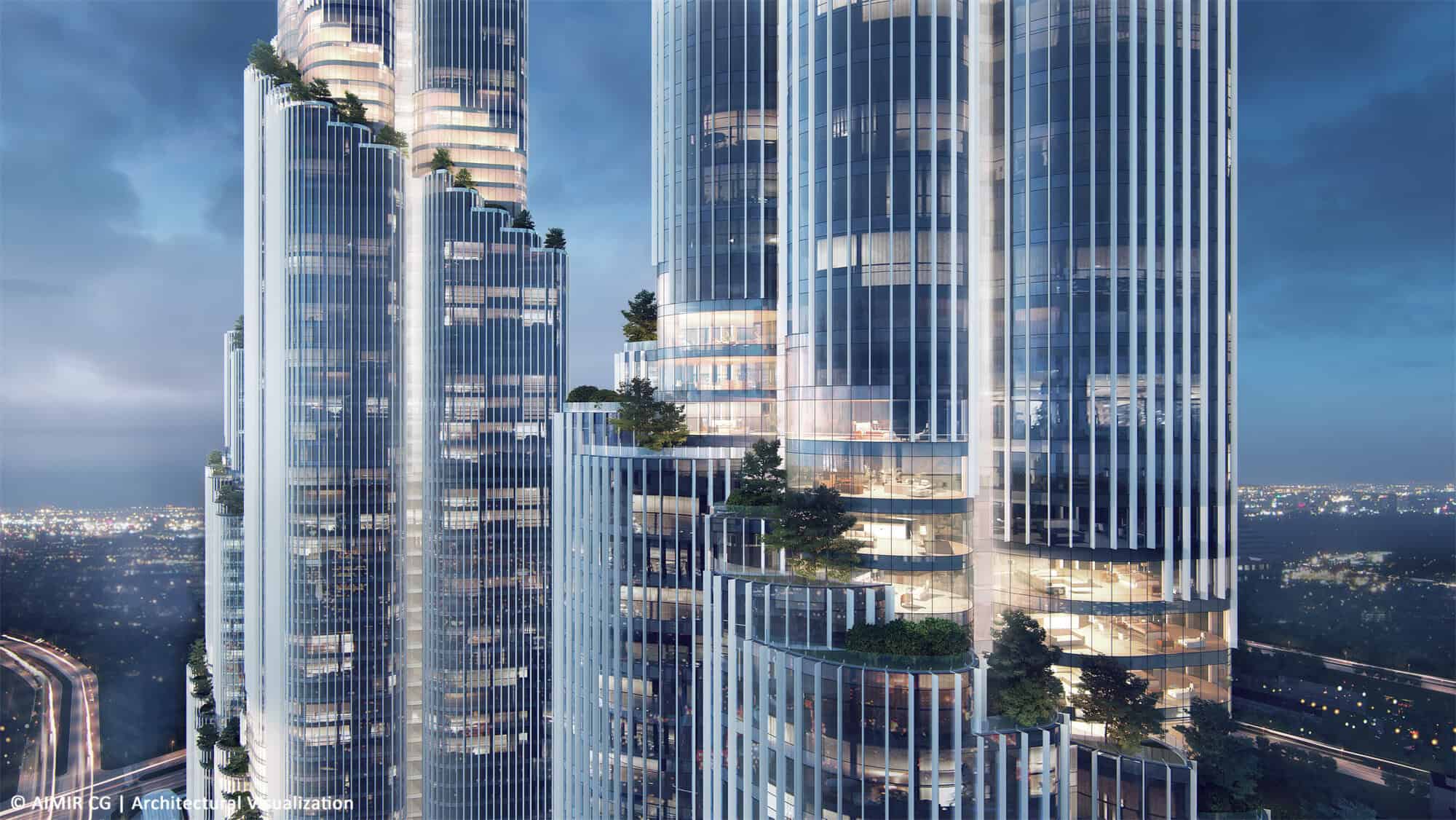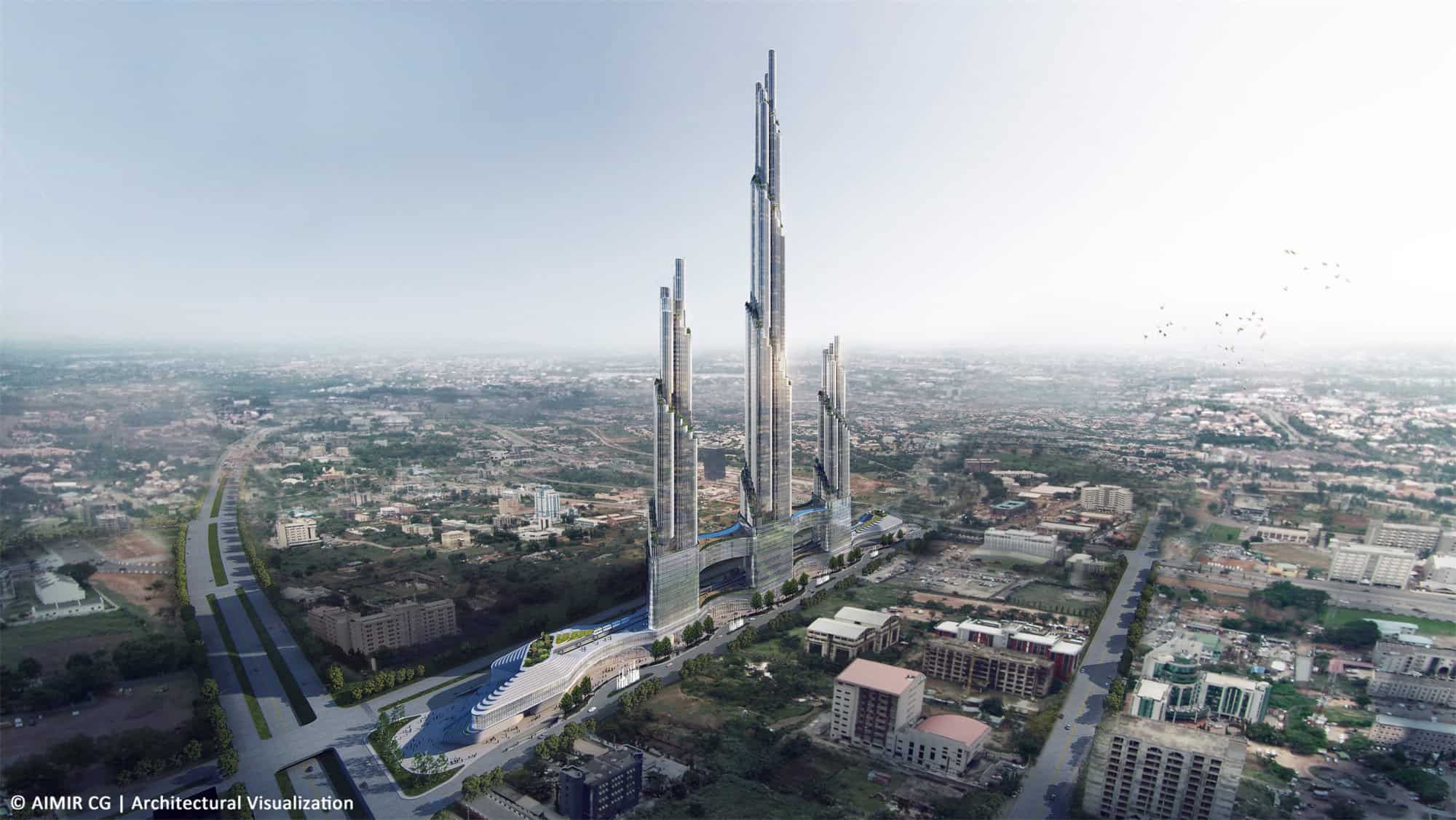 architectural-visualization-3d-rendering-services-exterior-exterior-cgi-tower-of-africa-TOA (2)
architectural-visualization-3d-rendering-services-exterior-exterior-cgi-tower-of-africa-TOA (1)
architectural-visualization-3d-rendering-services-exterior-exterior-cgi-tower-of-africa-TOA (3)
architectural-visualization-3d-rendering-services-exterior-exterior-cgi-tower-of-africa-TOA (4)
architectural-visualization-3d-rendering-services-exterior-exterior-cgi-tower-of-africa-TOA (5)
architectural-visualization-3d-rendering-services-exterior-exterior-cgi-tower-of-africa-TOA (6)
Conclusion
As we bring our case study of TOA to a close, we cannot help but express our deep appreciation for the incredible design crafted by our esteemed client. Their unwavering commitment to delivering a tower that not only stands tall but also embodies the spirit of Africa inspired us at AIMIR to push the boundaries of what's possible in 3D visualization. Our talented team worked tirelessly to capture every nuance of the design and present it in the most vivid and engaging way possible. It was a privilege to work with such a talented team and bring their vision to life through our architectural visualization services. And we are excited about the prospect of seeing their vision come to fruition.
If you desire to present your architectural project in the most impressive way possible, don't hesitate to reach out to us for our exceptional 3D rendering services. Our photorealistic visuals will leave a lasting impression on your audience!