When you're looking for information about exterior and interior rendering services in New York, there are lots of factors to consider. A visual-compelling portfolio, rich relevant experience, latest software and tools, and effective communication. Commercial rendering services have revolutionized the way architectural and interior designs are presented, evaluated, and marketed. Through advanced technologies and artistic finesse, these services bring sketches and models to life with stunning realism. These visualizations not only aid in decision-making but also serve as potent marketing tools, captivating clients and stakeholders alike.
In the bustling metropolis of New York, where innovation and design converge, the visual representation of architectural and interior concepts holds immense importance. The dynamism of this city demands precision and imagination to showcase designs before they come to life. This is where commercial rendering services step in, offering a gateway to immersive visualizations that bridge the gap between blueprints and reality.
Before delving into the following 7 architectural project in New York, USA and seeing how 3D visualization services make these projects shine in the cosmopolitan city, we'd like to introduce commercial rendering services.
Commercial Rendering Services: Concept, Benefits, and Users
What is Commercial Rendering Services?
Commercial rendering typically refers to the process of creating visual representations, often in the form of images or animations, to showcase architectural designs, interior spaces, or product designs before they are actually built or manufactured. With the development of technology, now 3D artists or rendering agencies are able to use state-of-the-art rendering software to generate lifelike images. In general, commercial rendering services can include:
Architectural visualization;
Interior design rendering;
Exterior design rendering;
Product visualization;
Real estate rendering;
Animations and virtual tours;
Marketing collateral.
Benefits of Commercial Rendering Services
Architecture, interior design, product manufacturing, and marketing are the main industries that benefit from commercial rendering services. It has demonstrated its significance in transforming ideas into tangible visual representations. By leveraging cutting-edge technology and artistic prowess, these services provide photorealistic renderings that serve as powerful tools for design communication, project visualization, and marketing endeavors.
One of the foremost benefits lies in the enhanced clarity and realism that renderings bring to the table. These renderings provide clients, stakeholders, and investors with a clear and accurate depiction of architectural designs, interior spaces, or product concepts.
A significant advantage of commercial rendering services is their role as a catalyst for effective communication. Commercial rendering services enable intricate concepts to be conveyed with precision, transcending language barriers and simplifying complex design details.
Furthermore, commercial rendering serves as a vital means of design validation. Detecting design flaws or discrepancies at an early stage can significantly mitigate the need for costly revisions during later construction or production phases.
Client engagement is another compelling benefit rendered by commercial rendering services. Rendering process provides clients with a tangible preview of their envisioned projects, fostering a sense of connection and ownership.
In terms of cost and time savings, commercial renderings service proves invaluable. Addressing design concerns before actual construction or production commences minimizes the need for costly modifications down the line.
All things considered, commercial rendering services represent a pivotal bridge between imagination and reality in various industries. You just need to find the right team to rely on.
Who uses Commercial Visualization Services?

Employed by industry professionals, commercial visualization service is for multitude of purposes. People who benefit from this service include:
Architects: Architects and designers are among the primary users of commercial rendering services. They use renderings to visualize architectural designs, interior spaces, and urban planning projects.
Interior designers: Interior designers use renderings to showcase their commercial concepts for various spaces.
Real estate developers: They leverage commercial rendering services to market properties that are still in the planning or construction phases.
Product manufacturers: Detailed product renderings aid in marketing, allowing manufacturers to present their offerings in a realistic and appealing manner.
Marketing and advertising agencies: They utilize commercial renders to enhance their campaigns such as brochures, websites, advertisements, and presentations.
Government and regulatory bodies: Government agencies and regulatory bodies utilize renderings for project assessments, zoning approvals, and urban planning evaluations.
There are many other professionals who need to convey intricate design ideas, market products, gain approvals, or engage stakeholders visually use commercial rendering services. After all, it is the ability to present concepts in a realistic and compelling manner that makes these services indispensable in today's visually driven world.
Commercial Rendering Services in New York Projects: Case Studies and Examples
Mixed-use Projects in New York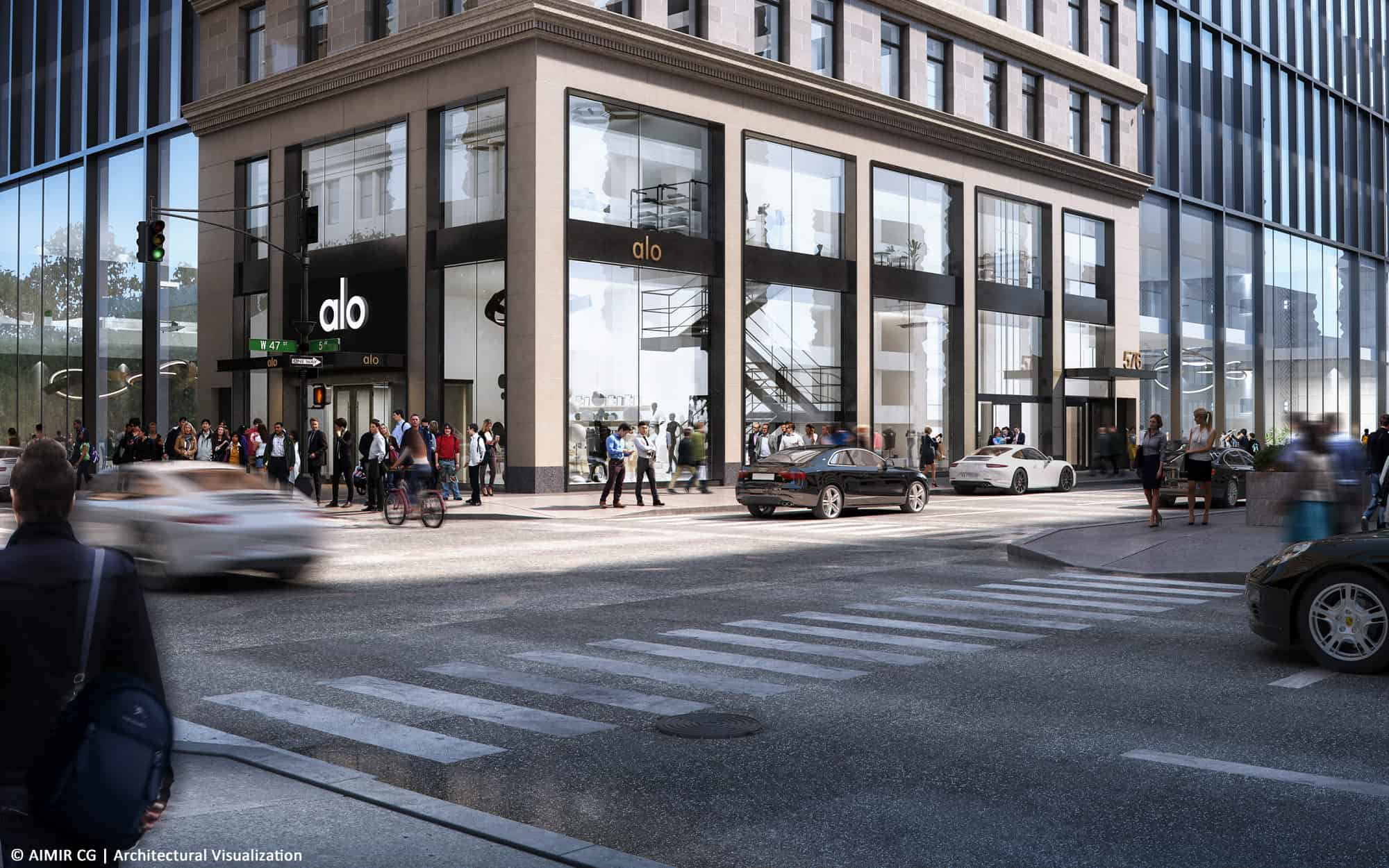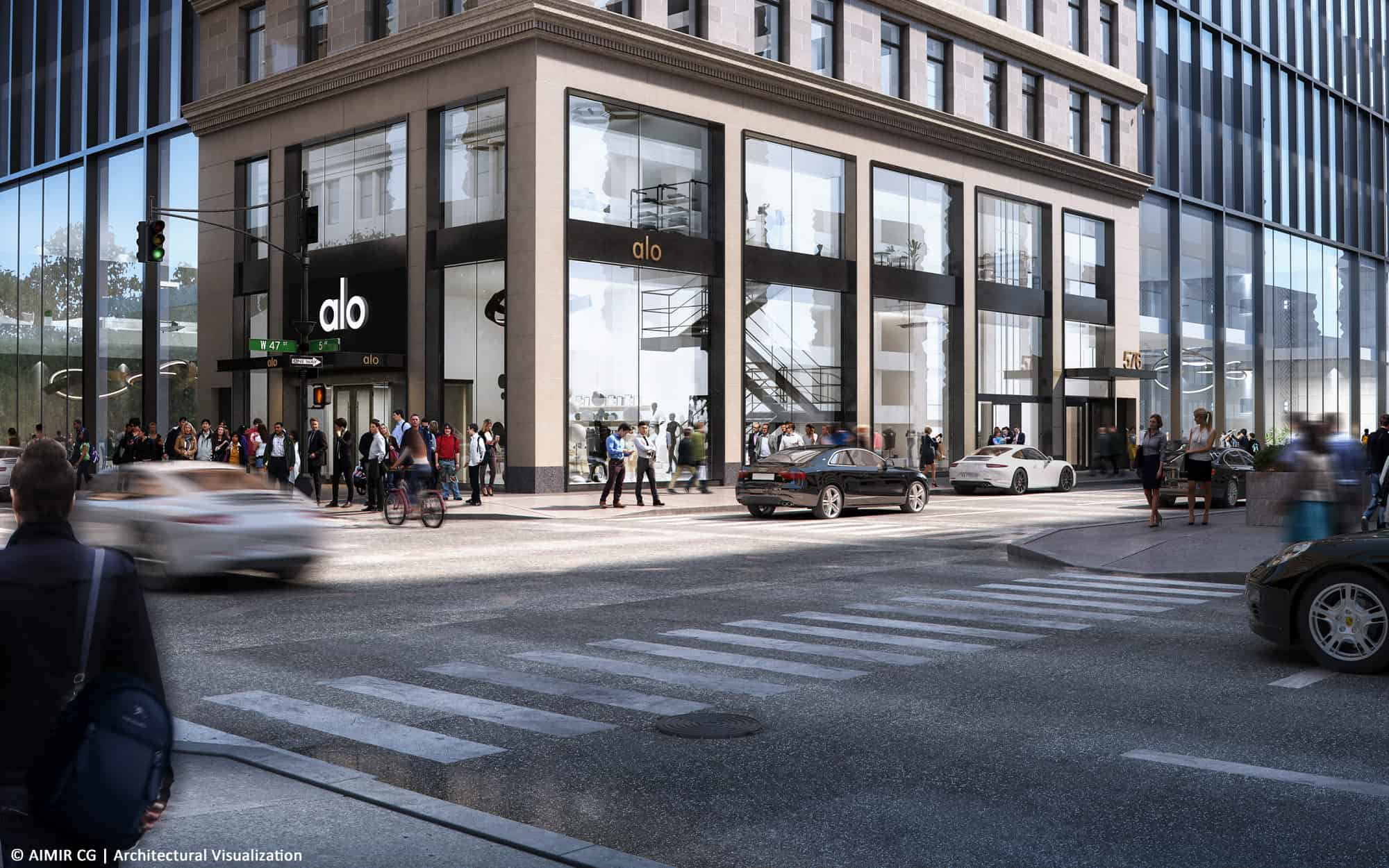 3d-rendering-process-mixeduse-building-cgi-architectural-visualization-aimir (8)
3d-rendering-process-mixeduse-building-cgi-architectural-visualization-aimir (9)
3d-rendering-process-mixeduse-building-cgi-architectural-visualization-aimir (10)
3d-rendering-process-mixeduse-building-cgi-architectural-visualization-aimir (11)
3d-rendering-process-mixeduse-building-cgi-architectural-visualization-aimir (12)
3d-rendering-process-mixeduse-building-cgi-architectural-visualization-aimir (13)
3d-rendering-process-mixeduse-building-cgi-architectural-visualization-aimir (14)
Project 576 is a redevelopment project of a 172-foot tall building with 17 floors, featuring retail shops and office spaces in New York, USA. The existing building is an 11-floor structure and the new "overbuild" 12 to 17 floors are the main part to demonstrate in this rendering project. We are not allowed to disclose the exact address, but we can say this structure is on one of the most bustling street in New York City.
To be a perfect marketing material, our 3D renderings need to be a powerful visual tool to impress the viewers. Eight views are created for the façade, lobby, amenity, terrace and aerial. On top of that, these views needed more than one version, which means there're different plans for this project. Thanks to the flexibility and quick response of CGI images, many architects, interior designers, real estate agents, and constructors use it as a tool to test which is the ultimate plan.
Learn more about Project 576 >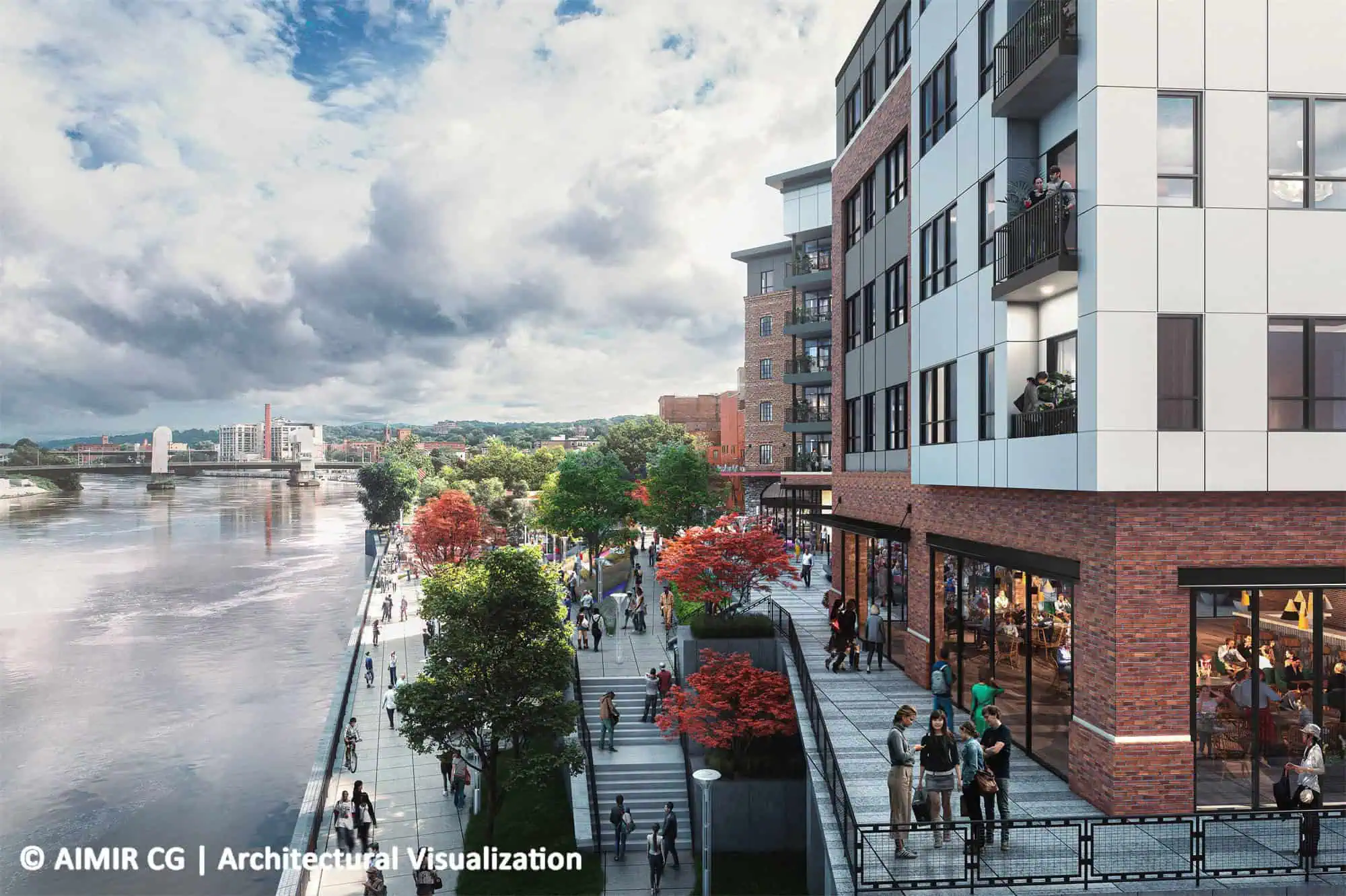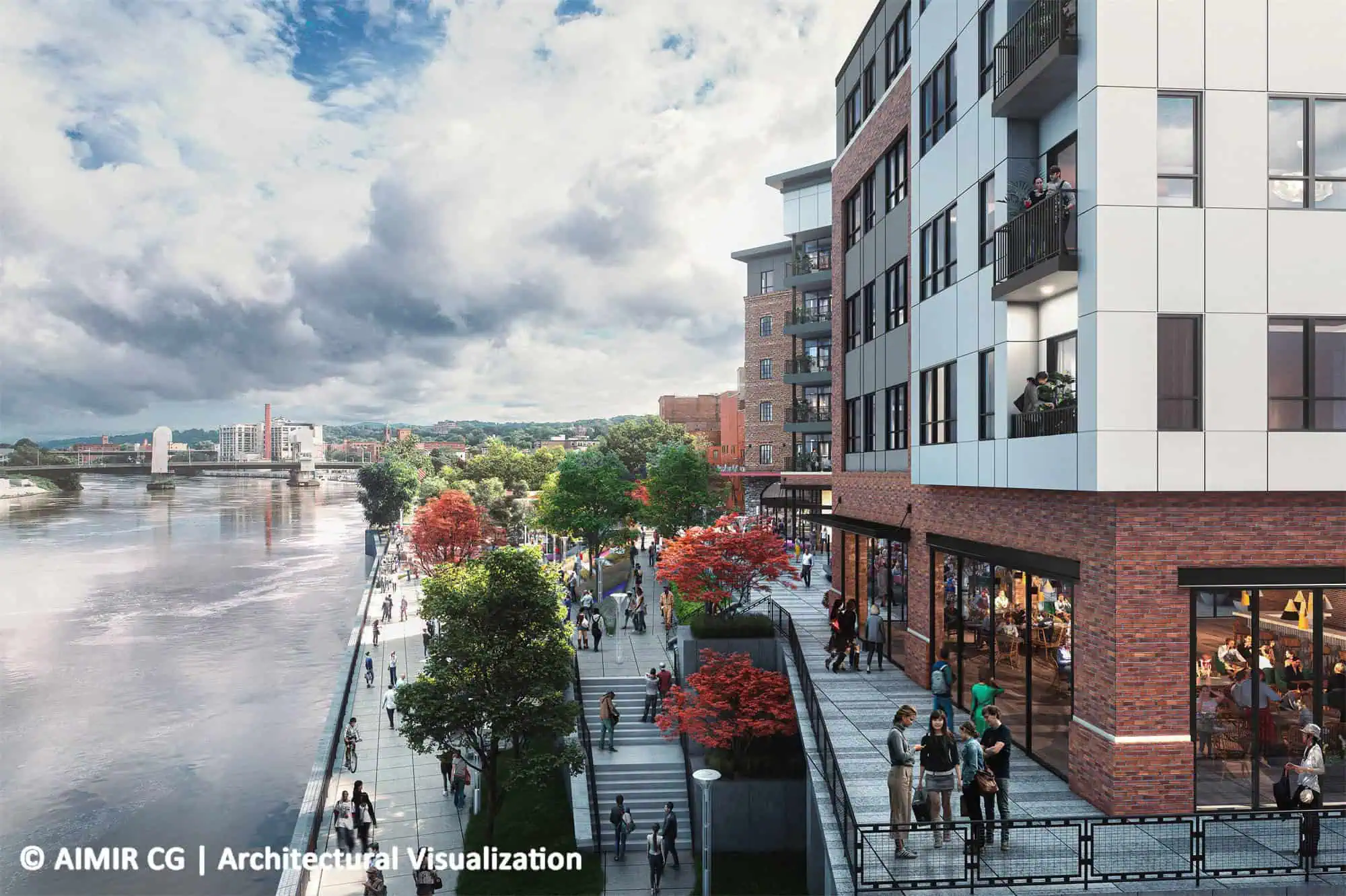 Located in Troy, New York, the mixed-use project will be a classic brick-structured mixed-use, with ground-level commercial spaces and 5-story apartments in Monument Square. It has the design in harmony with the Monument Square opposite to and other surrounding buildings. Not far on the northeast side, the famous 17-foot bronze statue of the Goddess Columbia The Call to Arms stands, honoring those from Rensselaer County who served in the Revolutionary War.
This One Monument Square in New York renderings are used as a major piece of a presentation to the public, and in general will need to show a lot of "life" to persuade the public to approve of the project. For this reason, AIMIR created a very diverse entourage to add a color to this community. At the same time, a Xmas version of one of the views were created for the special season.
Learn more about Monument Square >
Hotel Projects in New York
Renovation for Hotel Pennsylvania
This is renovation on an existing building, Hotel Pennsylvania. Opened in 1919, it once was the largest hotel in the world. The architect's mission was to give a new storefront at street level. Everything above is existing to remain. The new portion is the entrance, marquee, digital board screen, and storefront. As a result, our client's proposal is modern and practical while preserving the exterior appearance and style of the historic hotel.
Our visual focuses on the entrance level, demonstrating the updated entrance, storefront, and new digital board screen in a realistic manner. At last, this 3D exterior render showcases the updated plan of the hotel. Unfortunately, this century-old hotel is currently being demolished to make way for a 1,200-foot skyscraper.
Warren Street Hotel is an 11-story building at 86 Warren Street in Tribeca, New York City. The architects aim to create a 135-foot-tall structure with 44,000 square feet and 69 guest rooms. The incredible mirrored glass façade makes the structure invisible. At the same time, it blends seamlessly with the landscape and keep unwanted gazes out and let streams of light flood in naturally.
In our render, the hotel's blue structure pops nicely with the red brick, showing respecting context while still standing out. However, this vibrant cyan color is not the initial plan. Actually, our team created a forest green version one year ago before the final plan. This is one of the most powerful aspect of 3D rendering, that you can change the plan in an extreme fast turnaround with costing a fortune.
Learn more about Warren Street Hotel >
Apartment Project in New York

At 159 Broadway, the tower, a 277-foot concrete base topped with a glass cube, will have 235 hotel rooms and 21 condos. And this impressively-scoped tower is set to be quite taller than the site of the iconic Williamsburg Savings Bank, currently being as one of the city's premier event hall space. There will be a highly visible building with rising 16-floor commercial hotels and 10-floor for residential use.
Only one render was created for this future skyscraper. In this render, the architect chose to use dawn and the building is under soft light in the New York City. Surrounding context is real as our 3D artists used photomontage to bake a realistic future look of the building.
Learn more about Warren Street Hotel >
Office Project in New York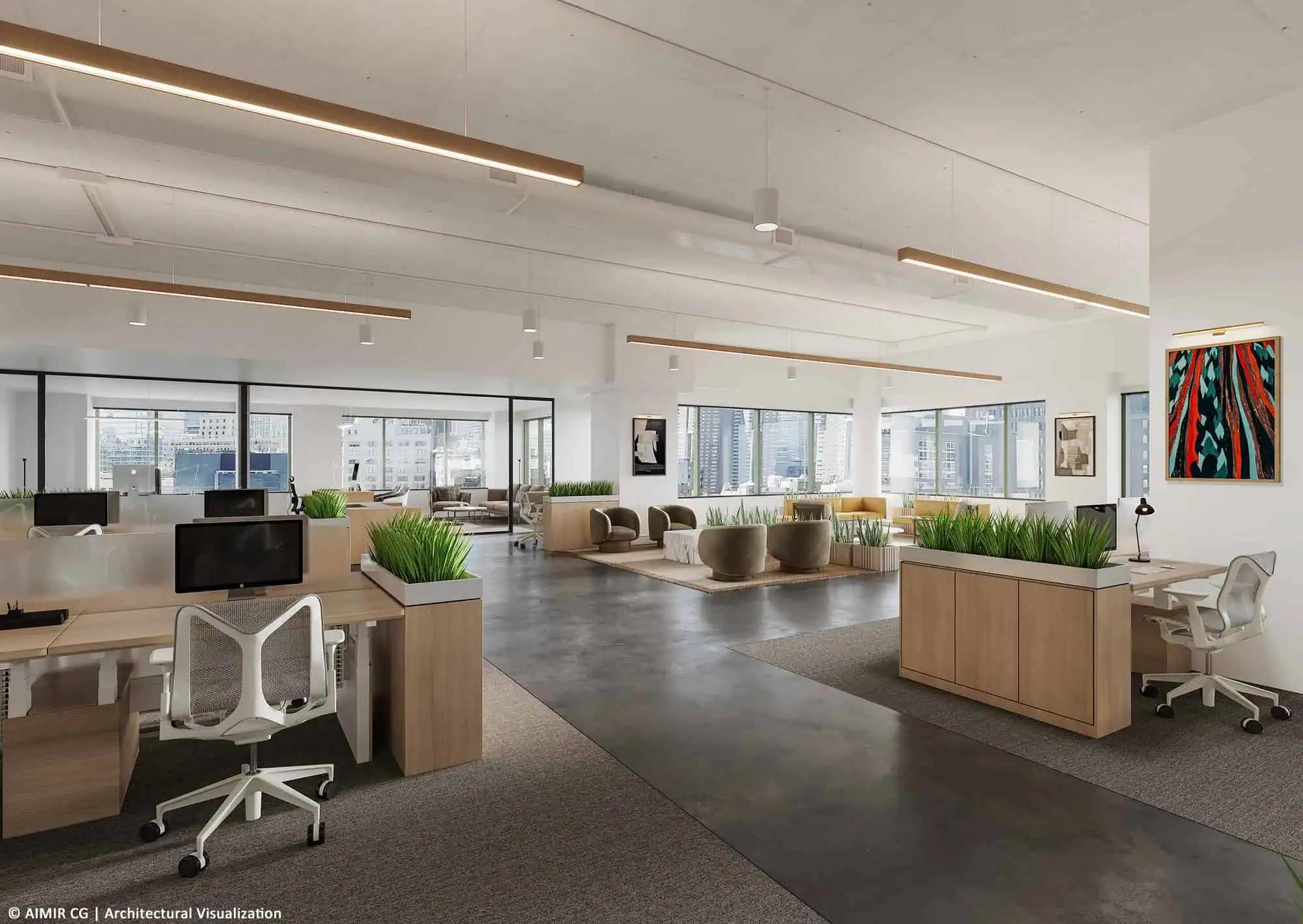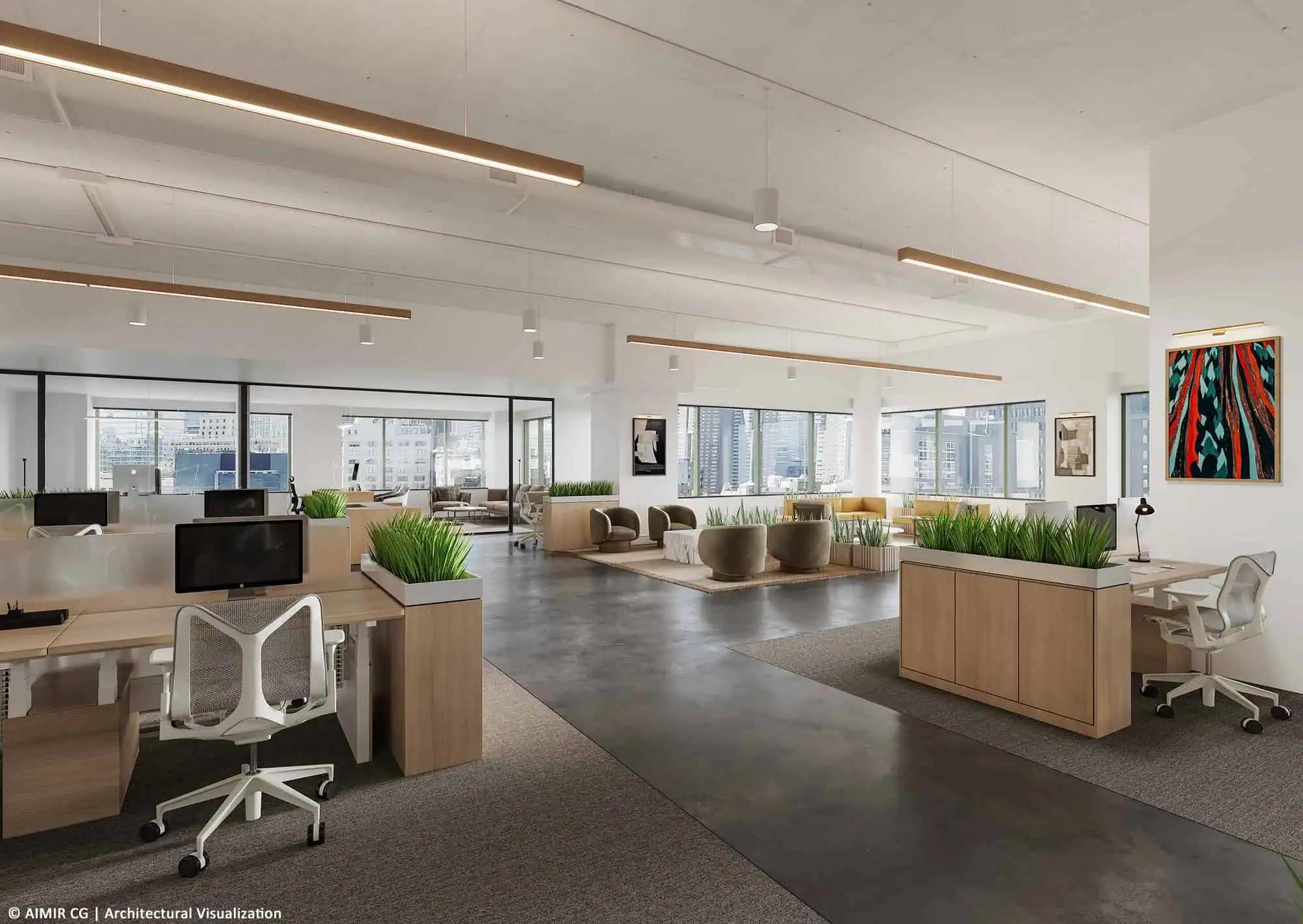 architectural-visualization-3d-rendering-services-interior-cgi-office-nyc (16)
architectural-visualization-3d-rendering-services-interior-cgi-office-nyc (17)
architectural-visualization-3d-rendering-services-interior-cgi-office-nyc (18)
architectural-visualization-3d-rendering-services-interior-cgi-office-nyc (19)
architectural-visualization-3d-rendering-services-interior-cgi-office-nyc (20)
architectural-visualization-3d-rendering-services-interior-cgi-office-nyc (21)
architectural-visualization-3d-rendering-services-interior-cgi-office-nyc (22)
Located on a prominent street in downtown Manhattan, 101 Office is a renovation project on the 12th floor in a renowned building in New York City. The designers incorporate built-in features, textured materials, and a clean and well-balanced color scheme to achieve a modern yet timeless design.
This is a 3D rendering project starting from CAD plans. Office spaces, kitchen, reception, and relaxation areas are the main remodeling spaces this time, and our 3D specialists used 3Ds Max to represent these future spaces.
Learn more about 101 Office >
Factory & Facility Project in New York
Manufacturing & Office Facility
A manufacturing & office facility in New York, USA, featuring dove gray coping and silver metallic structure and entrance. This structure has an eye-catching floor-to-ceiling glass façade which utilizes vertical clear anodized sunshades glazing with a slight gray tint. These factors in all give this building a sleek and modern exterior design.
We created three different moods for this building, among which a Xmas hour is to be used by our clients for their company Christmas card printing. Meanwhile, each image uses a unique mood, representing this structure in sunshine daytime, dawn, and snowy Christmas season.
Conclusion
In the city that never sleeps, commercial rendering services provide a bridge between the dreams of architects and the realities of construction in New York. They encapsulate the spirit of innovation, enabling designs to transcend blueprints and resonate with clients, stakeholders, and the wider public. As New York's skyline continues to evolve, these services will remain a vital force, shaping the city's landscape one visualization at a time.
If you have a commercial project in New York that needs 3D rendering services, or any project in anywhere on the planet, you're welcome to contact AIMIR. We're a professional 3D architectural rendering studio since 2006, and are excited to bring your vision to the world.