3D architectural visualization is a powerful tool in the design industry. It may hard to ignore its outstanding capacity and function. The 3D rendering service enables architects and designers to sell their designs and get greenlight easily, which significantly improves the chances of achieving business goals. Recently, we've finished several renderings of a school project with ARCHITECHNICA. We love the outcome of the renderings so we would like to share these beautiful renderings with you.
This is the first time we work with ARCHITECHNICA, which is a is a specialized firm of talented and diverse Architects providing services for local Educational, Municipal, and Commercial clients. We are glad that we can cooperate with this professional team and to be a part of this amazing project. The result of our collaboration is not only the photorealistic 3D rendering but also building our mutual trust and understanding.
2-Story Classroom Building
The design of this 2-Story Elementary School Classroom Building is part of ARCHITECHNICA's portable replacement portfolio. The design for this particular site involves replacing all existing on-site portables, equivalent to 24 teaching stations, with a new permanent classroom building of totaling 33,000 square feet. This 2-story classroom building is to create a new kind of educational environment.
The aerial view shows the overall design of the school building and its surrounding context. It is located in a friendly community with convenient traffic lines. This red-brick and white cement buildings is a rectangular construction, which is a perfect color combination reflecting lovely and joyful feelings. There are gardens, basketball fields, playground equipment, and the football field inside the school where children can have all kinds of outdoor activities. The openness of the space offers a free and inclusive atmosphere.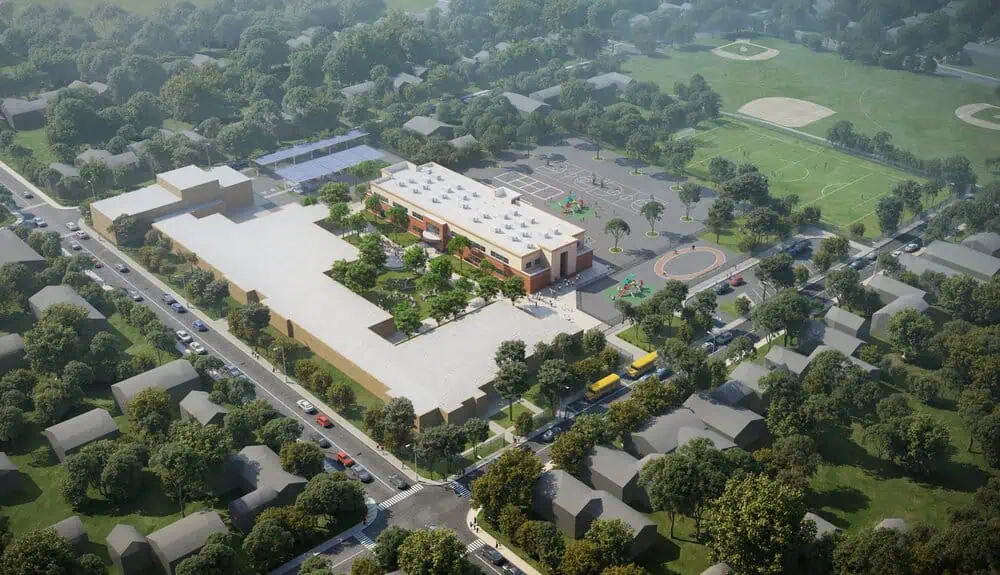 In the human eye rendering, the front garden full of greenery created a friendly, visually clear map for pupils to safely navigate the space and have fun. The design highlight and material can be clearly viewed in the close-up camera position. This school is designed to be flexible enough to accommodate students' outdoor activities and playful space for young children.
3D architectural visualization is a new advancement that makes design easier than before. It helps to optimize the design process by allowing architects to envision the design concept in greater detail and spot the construction mistakes before it breaks the ground. In addition, your design can be enhanced by the photorealistic effect and thus attract more business opportunities. If you like this two-story school renderings and want to know further details about our 3D rendering service, please do not hesitate to contact us.