No one will deny the fact that 3D interior rendering has become an invaluable tool in interior design. It allows interior designers to demonstrate their vision in a visually captivating and realistic manner. When it comes to highlight the space's design, one crucial aspect of the rendering process is selecting the right camera angles. For the same space, let's say living room, for example, using different camera angles will result in different visual effects. This in turn, will leave an impact on the viewers and may affect the sales result.
Then how to showcase your living room in its best possible manner? We've summarized some of the best camera angles for demonstrating the interior design of a living room in the 3D rendering process. Hope they will provide you valuable insights for creating stunning visual representations.
Best Camera Angles for Living Room 3D Rendering
Eye-Level View: Inviting Realism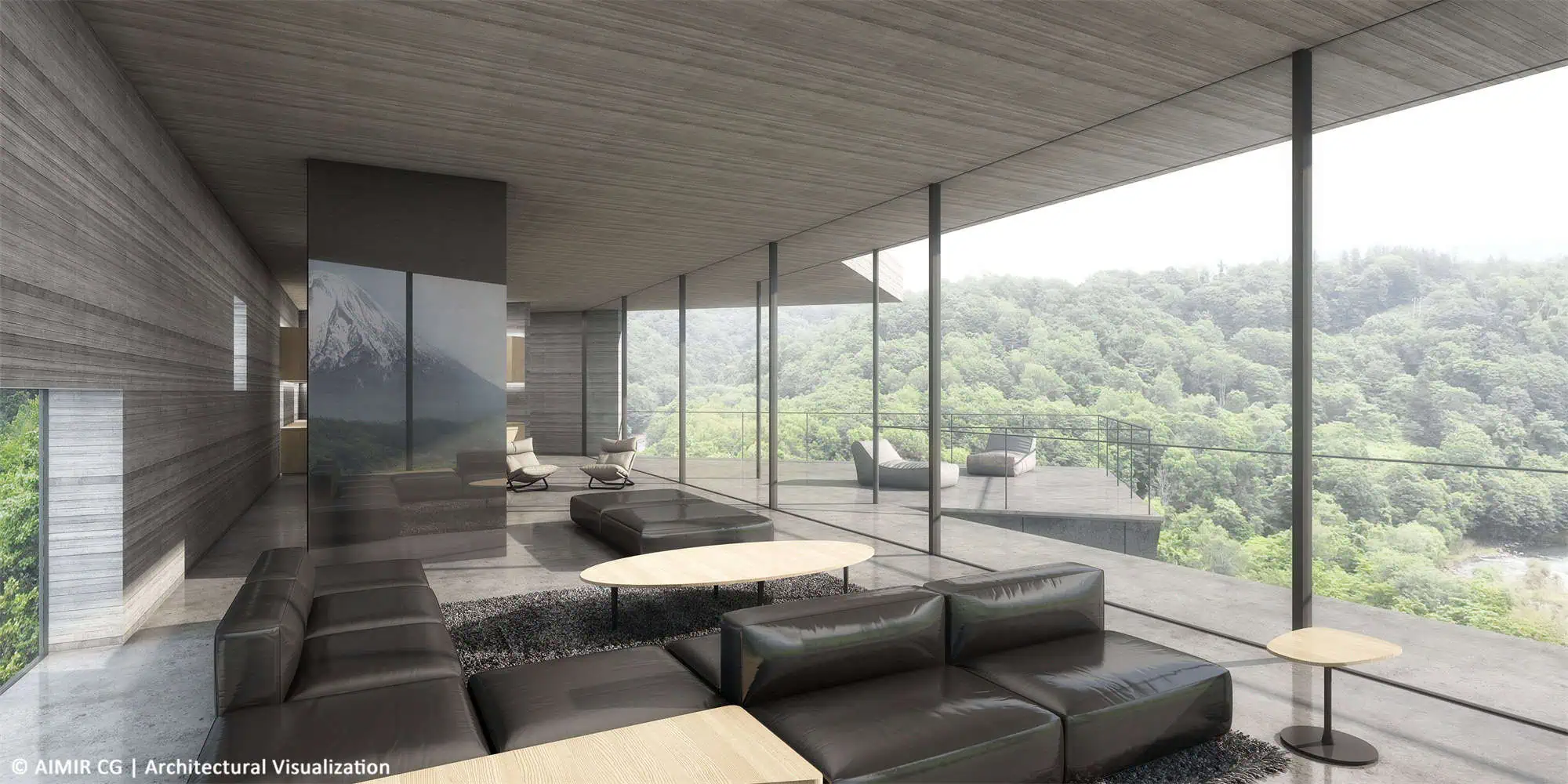 The eye-level view is a tried and tested camera angle that simulates how individuals would experience the living room from their own perspective. By positioning the camera at the same level as a standing or seated person, this angle provides a realistic representation. It helps viewers envision themselves in the space, fostering a sense of connection and familiarity with the design. The eye-level view is ideal for capturing the true essence of the living room, emphasizing the layout, furniture arrangements, and overall ambiance. In all, this is the view that provides all-you-need information of the living room.
Straight-on View: Balancing Composition
An additional camera angle worth considering for interior 3D rendering is the straight-on view. This is the view that provides a frontal orientation of the living room. For this reason, this angle is especially advantageous for interior design projects that lean towards classic, traditional, and contemporary styles. Because symmetrical arrangements and balanced compositions play a significant role in these design styles. Moreover, the straight-on view is particularly effective in showcasing the essential design elements of the living room. By capturing the room head-on, it becomes the best angle for highlighting focal points such as a fireplace, an eye-catching artwork, or a statement furniture piece. Therefore, you can simply choose what you want to show in front of your clients using straight-on view. In brief, this view is a work-for-all view for all kinds of living room designs.
Aerial View: Overall Presentation
To get a comprehensive overview of the interior design of a living room, aerial view is the best choice. It captures the entire space in a single shot, showcasing the layout, furniture arrangement, and spatial relationships with clarity. We believe this view is particularly beneficial for larger living rooms. Since it helps its viewers grasp the full extent and flow of the space. On top of this, it provides possibility to see how the living room interacts with adjacent rooms, corridors and even outdoor areas. However, we don't recommend aerial view for all living rooms especially small spaces. It works perfect on large spaces by enhancing the perception of spatial depth and aids in understanding the living room's proportions.
Corner View: Spatial Awareness
Placing the camera in a corner of the living room provides a unique perspective that captures two walls and emphasizes the spatial characteristics of the space. This camera angle helps viewers understand the layout and proportions of the room, showcasing how different design elements interact with one another. The corner view angle is especially useful for highlighting architectural features, focal points, or specific design elements. It creates a sense of depth, immersing viewers in the living room's atmosphere and allowing them to appreciate its overall design. According to our experience, corner view works perfect on unique and exquisite designs as it showcases the details in a clear manner.
Wide-Angle View: Emphasizing Openness
When the living room features an open floor plan or boasts a spacious layout, the wide-angle view becomes a valuable camera angle choice. Using a wide-angle lens or capturing a broad field of view allows the entire living room to be showcased in a single shot. This angle emphasizes the openness of the space, allowing viewers to appreciate the flow and connection between different areas within the living room. The wide-angle view is effective in capturing the grandeur of large living rooms or highlighting the seamless integration of various functional zones. If you're working on spacious living room projects, wide-angle view is able to bring the most out of your design.
Furniture Detail Shots: Enhancing Craftsmanship
In addition to capturing overall room perspectives, incorporating close-up shots of furniture pieces, unique textures, or intricate design details can add depth and visual interest to the rendering. These detail shots provide an opportunity to showcase the craftsmanship, material choices, and finer nuances of the living room's design. By zooming in on specific furniture pieces, such as a beautifully crafted coffee table or a luxurious armchair, viewers can appreciate the attention to detail and the quality of materials. These shots can also highlight unique textures, such as a patterned fabric or a hand-carved woodwork, adding richness and depth to the rendering. Furniture detail shots offer a more intimate perspective, allowing viewers to admire the finer aspects of the living room's design.
Panoramic View: Immersive & Seamless Visual Flow
The last one we recommend panoramic view, aka 360 virtual home tour. A panoramic view creates an immersive experience for viewers, allowing them to feel like they're physically present within the living room. And this is the most prominent feature of using a panoramic view. On top of that, 360 degree view captures the entire living room with incredible details. It would be ideal of you want to showcase living rooms with unique and intricate design features. By capturing a wide expanse of the living room, 360 degree virtual home tour enhances the perception of space and openness. As the ultimate tool for real estate marketing, panoramic view breaks the physical barriers and keep your audience engaged with a virtual experience.
Summary
In the world of 3D rendering, selecting the right camera angles is crucial for effectively showcasing the interior design of a living room. Each camera angle brings its own unique perspective, emphasizing different aspects of the space and design elements. The eye-level view invites viewers to connect with the living room, while the 45-degree angle adds dynamism and depth. The corner view highlights spatial relationships, while the wide-angle view emphasizes openness. Focusing on focal points or incorporating furniture detail shots further enhances the rendering, showcasing craftsmanship and adding visual interest. By utilizing a combination of these camera angles, designers can create captivating 3D renderings that bring their living room designs to life.
Still cannot decide the camera angles for your interior project? Need photorealistic 3D interior renders for selling? Contact our 3D rendering studio now and get a free quote in 12 hours. We will prove we're the experts in transforming your interior design into powerful selling weapon!