As one of the largest competition in 2021, we've published the International Architectural Design Competition for the Urban Design of Shenzhen Longhua Super Commercial Zone of Business District on Renmin Road. Not long after that, we've received the project request from our old friend, Zaha Hadid Architects. They decided to enter the competition along with a couple of other architect companies. Therefore, they need 3D architectural renderings to present this vision.
On May 2022, Zaha Hadid Architects' plan is shortlisted among 43 design entities. We are more than thrilled to see this result, and feel proud to be a small part of this splendid journey. In this blog, we'd like to share the process of how we create three still renders and a five-minute animation in ten days.
Longhua Super Commercial Zone in Shenzhen: ZHA's Design
Longhua District is located in the core part and central development axis of Shenzhen city. With Shenzhen to be a demonstrative pilot zone of Guangdong-Hong Kong-Macao Greater Bay Area, this super commercial zone should be integrated with commercial services, innovative creation, state-of-the-art technological services, and other good life services.
Therefore, the key element in their vision is the expression of an "urban network structure". This is a golden triangle connecting three significant areas that provides unrestricted walking space for people and creates non-vehicle transportation. Our project focuses on the close-up shots.
As described, we'll divide the process into still images and animation in this article. Now, let's start with the exterior renders.
3D Exterior Rendering Process
#Stage 1: Project Information and the Scope
ZHA team had prepared all relating materials about this project to help us understand the whole vision, which includes:
The masterplan. Although the view needed are partial views, ZHA team still shared the masterplan. In this way, our 3D artists are able to have a holistic understanding of this project.
The camera angles. They had clearly showed the camera angles wanted with the form of screen shots of the model. In total, there are three exterior street views from different spots in the masterplan.
A Rhino model. ZHA team shared their initial models and soon updated parts of them. Here, they only updated the parts that had been changed. Thanks to this, our 3D modeler didn't have to take care of the whole model again. And this is what we recommend to do when dealing with design change.
Some reference images. These are mainly for the atmosphere and mood references.
#Stage 2: 3D Modeling
As they've finished the Rhino models, all we needed to do was to refine them. But before we started, they shared some updated model parts with an image indicating where exactly had changed. This thoughtful behavior saved our 3D team a lot of time and reduced the workload, given that there were only ten days to deliver this project.
Starting the modeling stage, we imported the model into 3ds Max. Using tools in 3ds Max, we adjusted the lines and geometry according to the design materials. At last, the 3D models are like this:
When we shared these model drafts to ZHA team, they responded promptly with their comments. To summarize, they wanted to:
Add pavements around the schools;
Enhance the look of the highline;
Add some low type vegetation on the roofs.
At the same time, they explained the plan in the drafts. For example, they've marked the location of the recycling station, cultural center, and school football field.
#Stage 3: Colored Drafts
After receiving their comments, our 3D artists modified them on the models and then proceeded with the following stages, including applying materials and textures, setting lighting, rendering, and post-production.
In order to work with the key theme that is "sustainability pattern for success", in our renders we try to drive the sustainability principles into the scene. Firstly, we chose the façade materials carefully based on information from ZHA team. Secondly, the plaza or public spaces are full of people and activities that showcase a smart city with people. Nature and planet thriving together. At last, we pay attention to the indoor spaces such as the podiums and schools, enhancing the details with a mix of activities.
When receiving these colored drafts, ZHA team marked them with their comments clearly and got back to us in a short time. This time, they wanted to:
Modify the lawn by making a separation path;
Adjust the color in the podium, make it less orange;
Change the color and shape of the metallic façade;
Accordingly, after a couple of rounds' adjustments, three renders were ready to deliver!
#Stage 4: Final Delivery of 3D Renders
Please enjoy AIMIR's 7k exterior renderings for Shenzhen Longhua competition!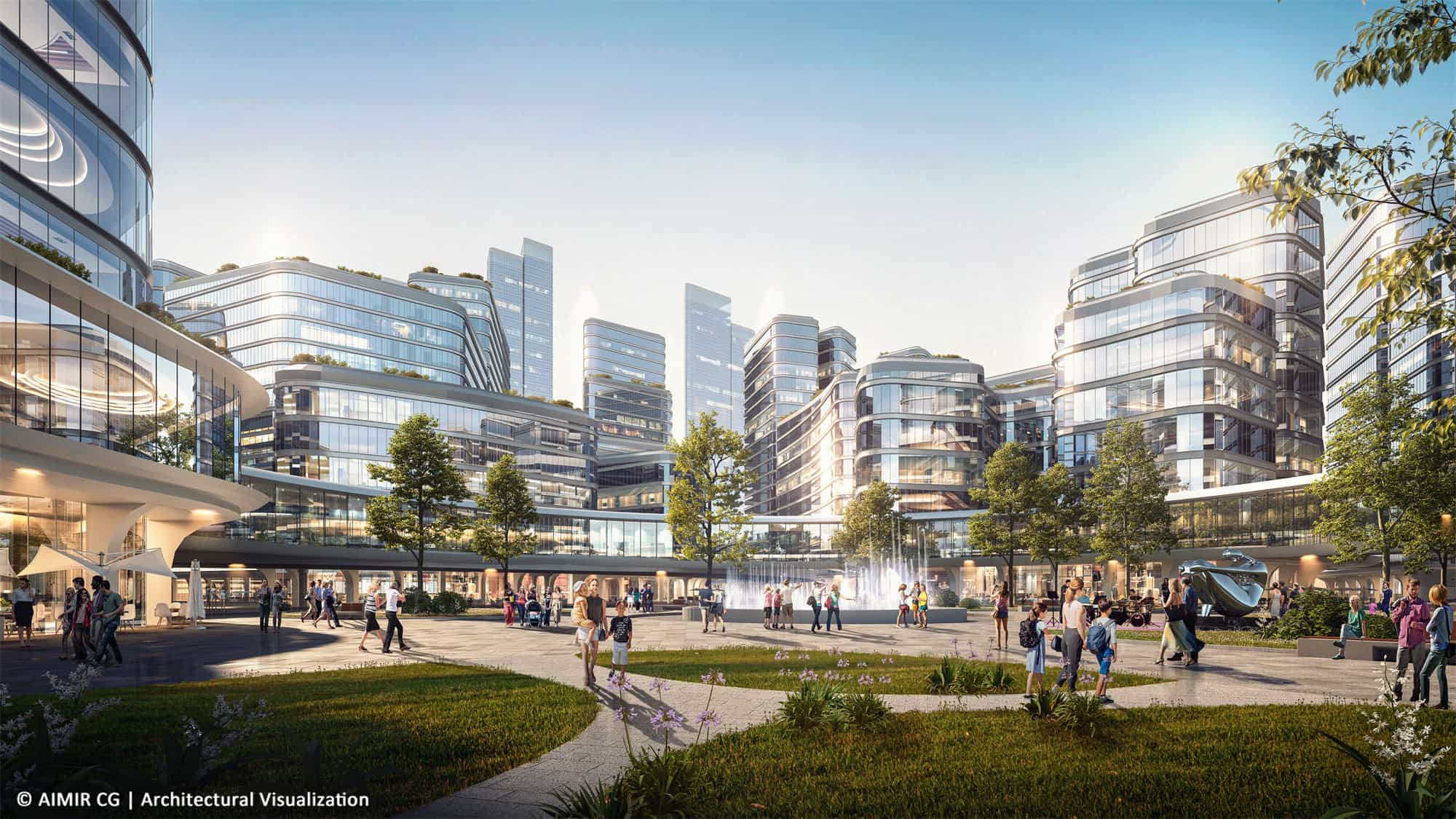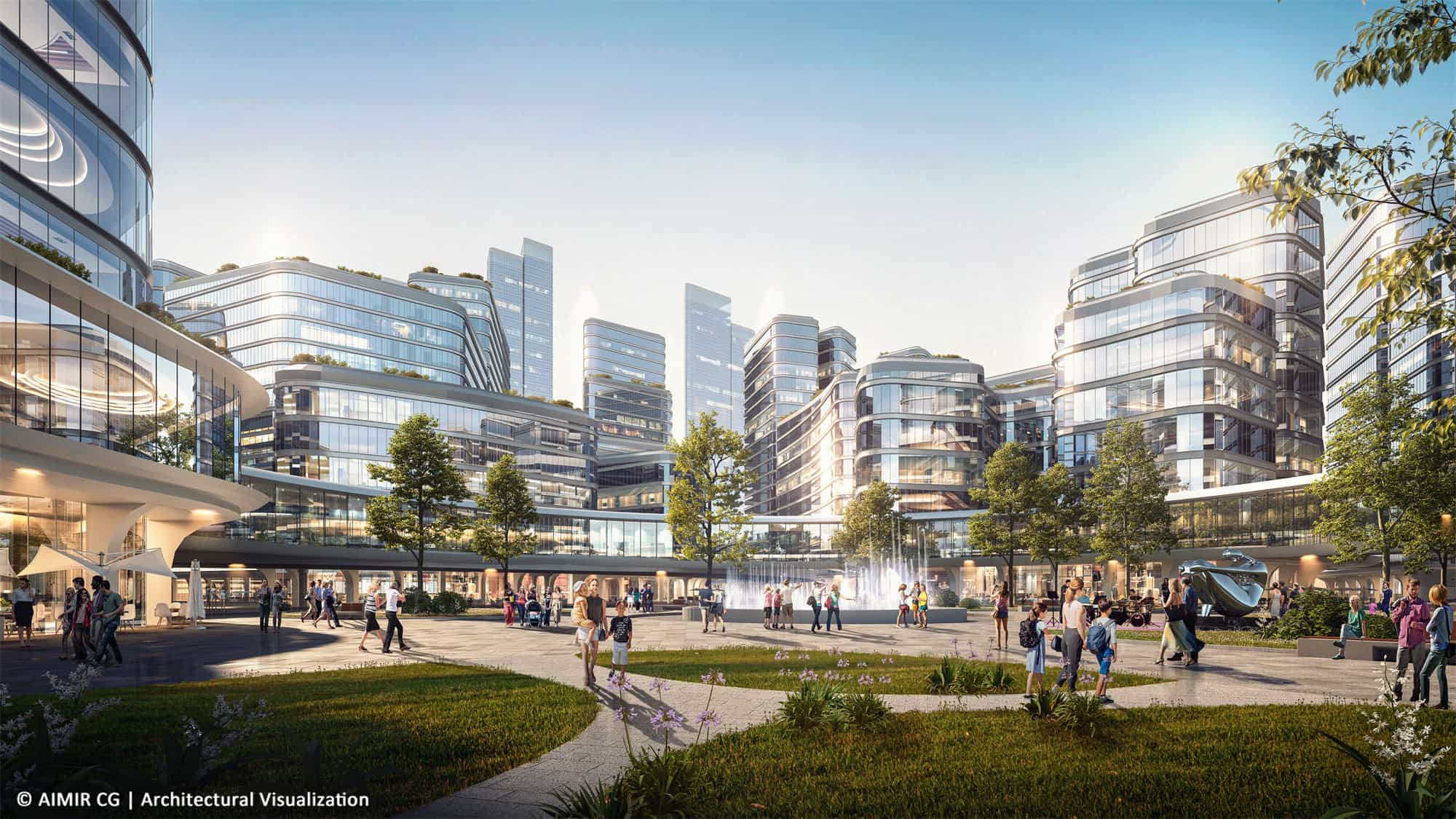 architectural-visualization-3d-rendering-services-exterior-cgi-zaha-hadid-architects-longhua-competition (22)
architectural-visualization-3d-rendering-services-exterior-cgi-zaha-hadid-architects-longhua-competition (23)
architectural-visualization-3d-rendering-services-exterior-cgi-zaha-hadid-architects-longhua-competition (24)
Architectural 3D Animation Process
#Stage 1: Storyboard and Camera Path
We were tasked with creating a five-minute animation to fully introduce this project. In the storyboard. They'd like to include:
Location diagrams;
Conceptual pattern formation;
Overall masterplan;
Detailed sites;
Function analysis;
Fly-through explanation;
About the camera path, they'd like to have an approximately 2-minute introduction of the site and then integrate the street view renders we've completed, and at last finish with a 2-minute flythrough.
#Stage 2: 3D Modeling and Camera Setup
The next thing we did was to learn the CAD plans and the Rhino model, in order to create 3D models for the animation. During this stage, 3D models of both the object structure and the surrounding environment are built to be confirmed. Because this is an urgent project, our 3D modelers created the models for the still images and animation at the same time. Essentially, they share the same comments, such as design change and other possible adjustments.
#Stage 3: Key Frames with Textures, Lighting, and Scenes
When the 3D models are confirmed (in this project, when the 3D models for still images were confirmed), our 3D artists moved to the coloring stage. We textured the scenes and filled them with appropriate lighting and people. As soon as the colored scenes were ready, our 3D specialists immediately made low-resolution renders, which we call key frames, sharing with clients for further confirmation.
In the comments, ZHA team marked a few changes they hoped to make, which were:
Make the pavement more reflective;
For one scene, use more dramatic sunset sky with the sun coming from the back of the buildings;
Add an animated water jets in the center of the pond;
Add green roof to the school, also add red running track around the school.
Basically, these comments aimed to relate the scenes to social and leisure activities, connecting to nature, living lifestyle for different age groups. In total, we needed to give it more life and vibrancy.
#Stage 4: Rendering and Post-production
Once the colored animation preview draft was confirmed, our 3D team started to render the scenes, adding visual effects, processing transitions, choose background music and score, and other work to complete the architectural 3D animation.
#Stage 5: Final Delivery
The final animation is a five-minute-seventeen-second with a 1920*1080 resolution. And this photorealistic 3D animation was used for the presentation in the competition.
We love to work with design teams on competition projects because they are challenging and inspiring. At the same time, we keep updating the latest architectural design competition information in China on our website. If you need any more information, we're here to help anytime.
In all, our 3D team created three realistic street view renders and a five-minute animation for Longhua project in ten days. ZHA team is no doubt efficient and well-organized, at the same time proactive. They are always clear about what they want, and feedback super fast. Since 2017, we've been collaborating with ZHA team for various projects, and can't wait to start our next one!
Looking for photorealistic visuals to sell your competition ideas? Want to win your presentation with show-stopping renders? Contact our professional architectural visualization studio for reliable 3D animation services. We'll deliver one-of-a-kind visuals for you exciting project!