The holiday season is coming to a close, so attention is shifting to year-end review season. 2021 has brought us some incredible projects. You may have had some really good projects to share, but you never know what's AIMIR is bringing for you.
In 2021, AIMIR continued to provide high-end 3D architectural visualization works for the world. Some of the projects still remain confidential, but some are popular and loved by many architects and designers on our website and social media platforms.
So, here you are, dear audience, 10 architectural visualization projects to kick off the New Year. Don't miss the bonus project in the end!
#10. Community Development, La Caña, Dominican Republic
Facing the Caribbean Sea, this community is part of Bahia Principe's new master plan for the locals. It is inspired by famous coastal architecture such as Alys Beach, Mediterranean cities, and traditional-American residential design.
AIMIR created both 3D rendering and animation for this beautiful community, which pictured a unique but familiar setting for new residents along this beach-side development.
Find out more about Community Development in Dominican Republic >
#9. Non-commissioned work: KCP Apartment, Japan
At AIMIR, we look at non-commissioned work as opportunities to get our team's creativity fly high when we take good care of regular projects. KCP Apartment in Japan is a project from 2020. We have created two non-commissioned renderings under the consent of its architect.
If you want to share your 3D model with AIMIR and see your architecture in our inspiration and creativity, please let us know at [email protected].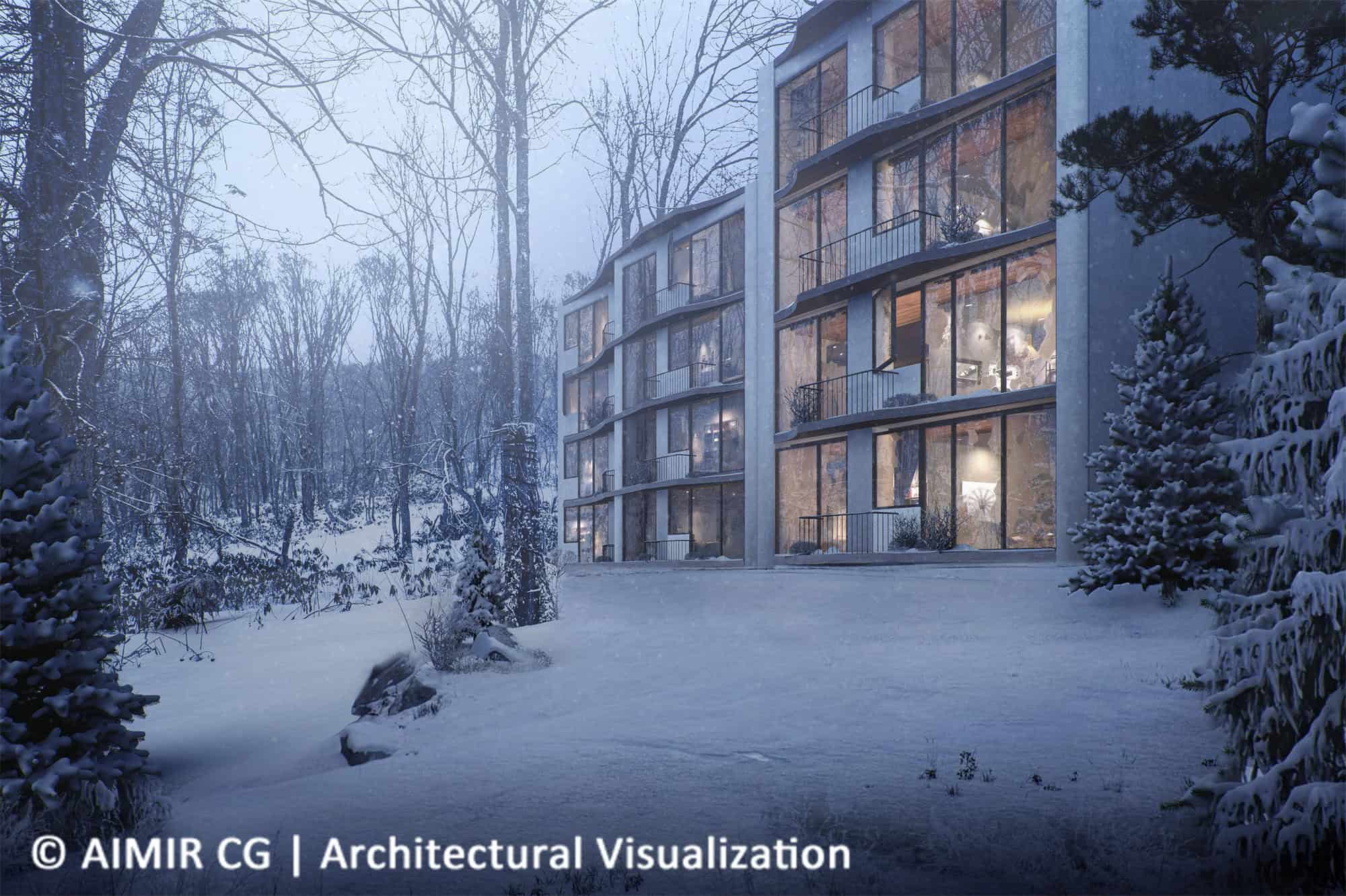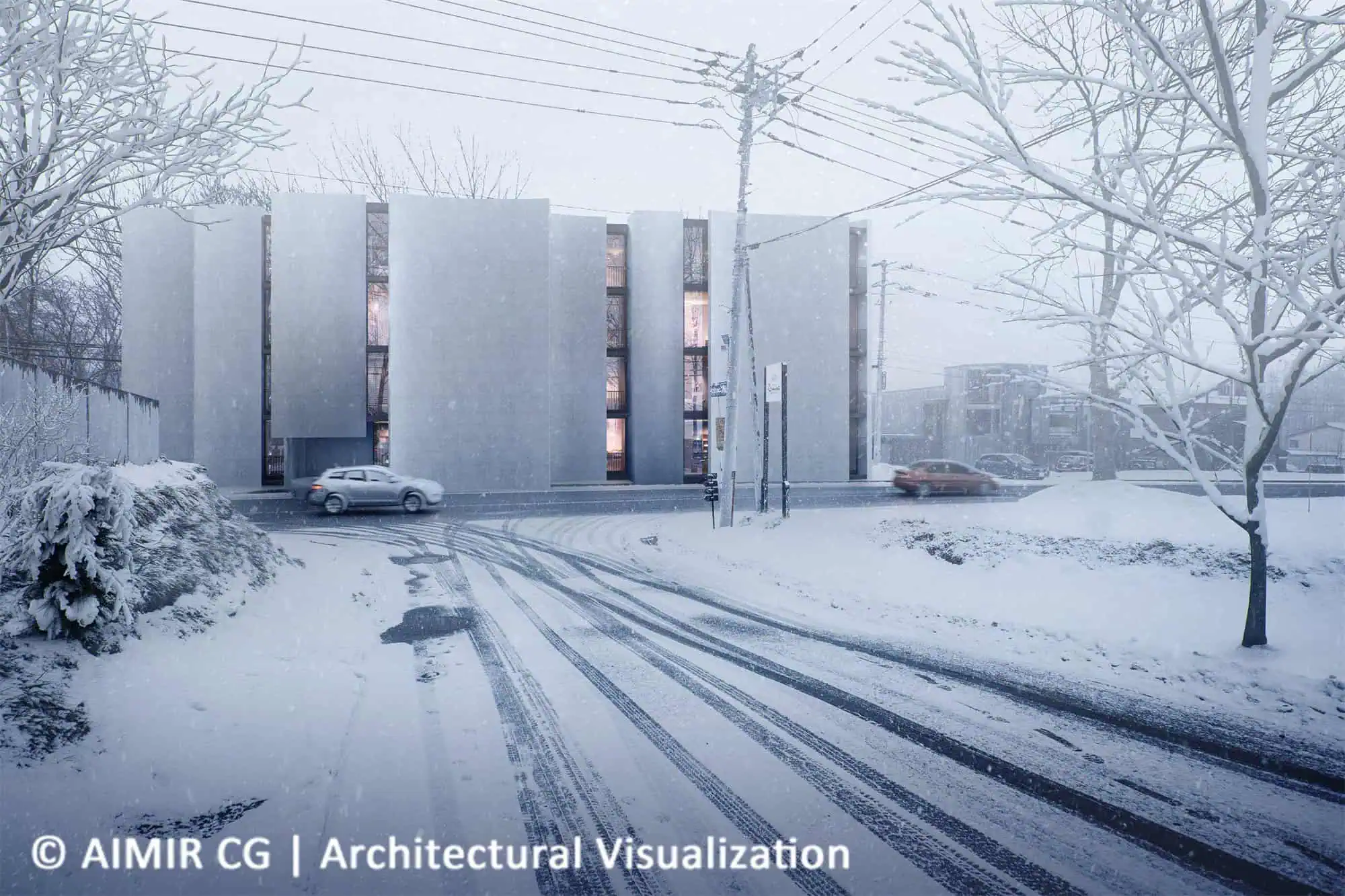 #8. One Monument Plaza, Troy, New York, USA
This new mixed-use apartment in front of Monument Square on River Street in Troy, New York is on board for construction soon. This is a beautiful complex in the center of Troy, along Huston River, to bring a new landscape to the city.
As a major piece of a presentation to the public, 6 renderings were created by AIMIR to make it appealing and persuasive.
Find out more about One Monument Plaza >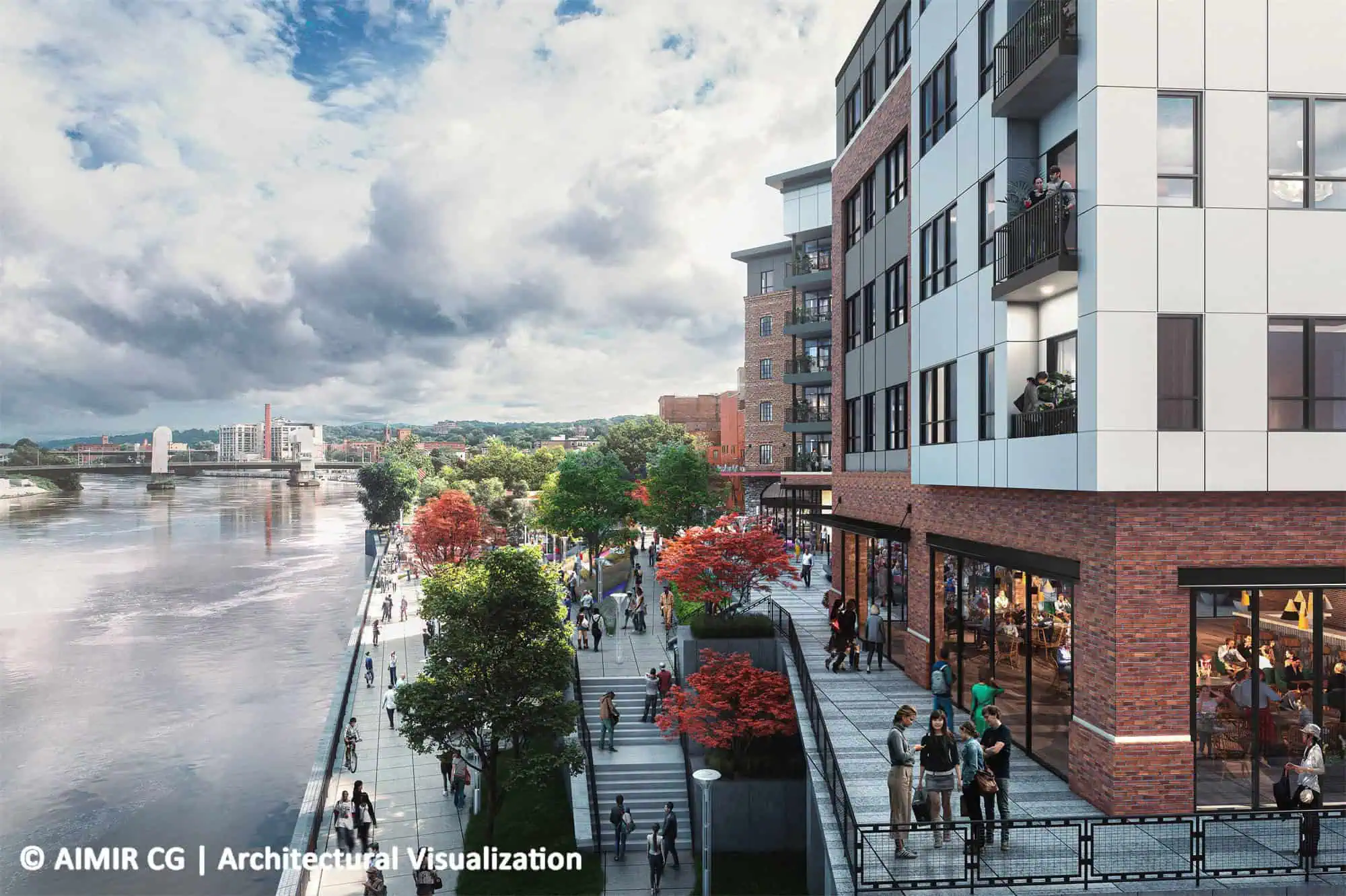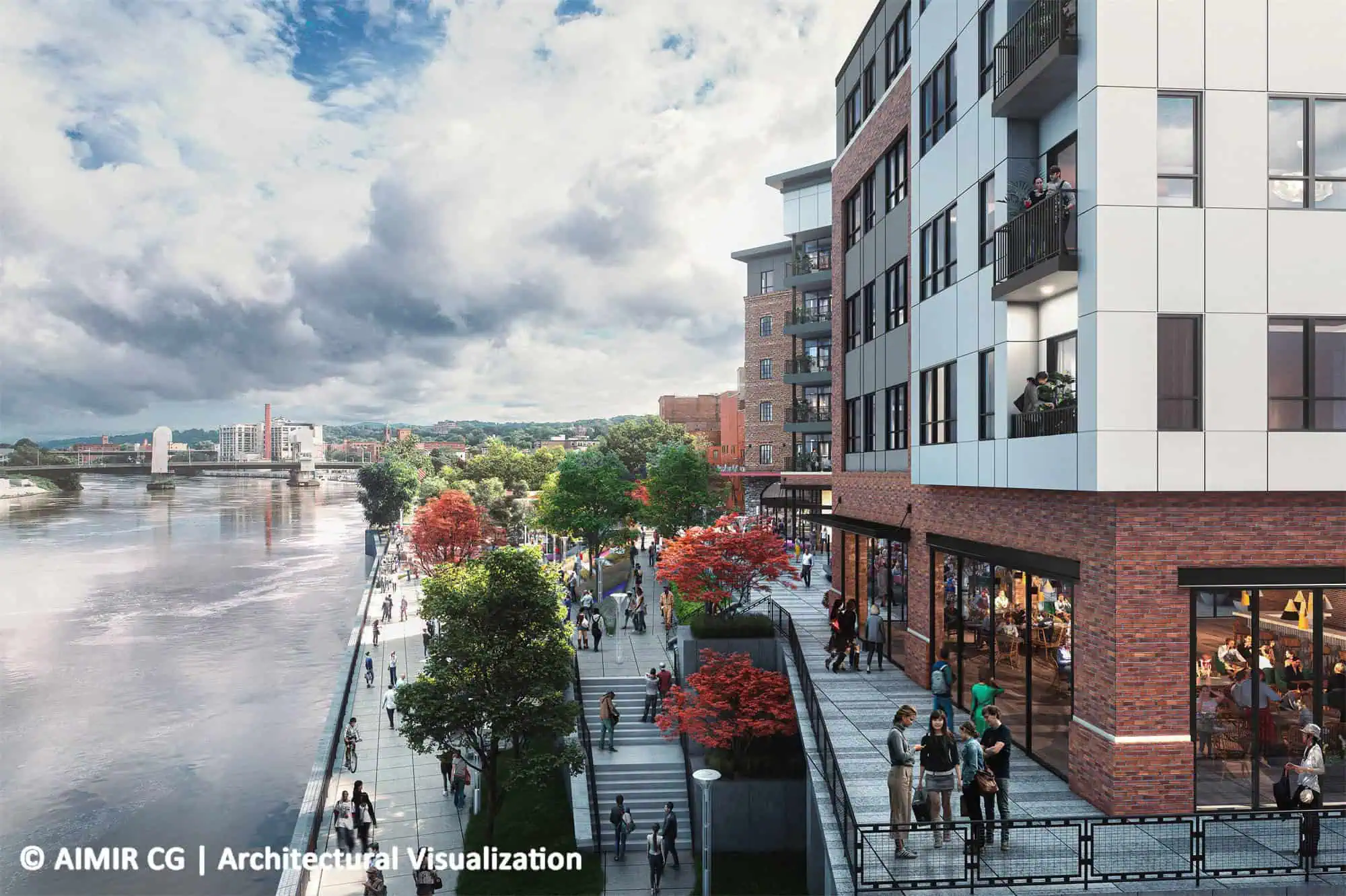 #7. Summer House, Los Angeles, USA
A private project of a luxury apartment in LA. The brown tones and natural materials bring soothing warmth to this moodily lit interior. The tonal combination creates a look of comfortable, modern, and utmost sophistication. It's all about consistency and harmony.
The Summer House is a challenging project for AIMIR, because the client asked for custom furniture, as well as a very strict sense of the atmosphere. On top of these, it hadan urgent deadline of 14 days.
Find out more about Summer House >
#6. Naladhu Island Ocean House, Maldives
A beautiful private island in Maldives with only 20 private vacation houses. The resort was undergoing a total redesign & reopened in November 2021. These 3D renderings are used on their website, pamphlets, and social media for marketing.
Realistic exterior and interior views are created for this resort, all based on the site photos.
Find out more about Naladhu Island Ocean House >
#5. Sphere on Sunset, Los Angeles, USA
A giant glass sphere floating on the street in Los Angeles. AIMIR's 3D renderings helped won the Innovation & Technology in the Built Environment prize in Los Angeles Business Council aka LABC's 51st Annual Architectural Awards
This public space provides a platform for people to occupy and interact with. The whole sphere is a LCD screen, creating potential for advertisement.
Find out more about Sphere on Sunset >
#4. Vineyard Hills RV Resort, Texas, USA
A luxury RV resort in Fredericksburg, Texas. This area developed over many years in a unique German Hill Country style based on stone building material. The purpose for this project is to show the design protects and enhances the experience of unique Hill Country character.
This RV resort is under renovation now and will be open to the public in late 2022. AIMIR has created 3D renderings and a 40-second animation to demonstrate the resort.
Find out more about Vineyard Hills RV Resort >
#3. Wilshire Courtyard, Los Angeles, USA
Wilshire Courtyard project is a redevelopment of an existing office complex in Los Angeles and transforming the underutilized site into a new mix-used destination on LA's highly desirable Miracle Mile.
AIMIR created three story-telling 3D renderings to help the architects get approval of Los Angeles' City Council.
Find out more about Wilshire Courtyard >
architectural-visualization-3d-rendering-services-exterior-cgi-wilshire-courtyard (1)
architectural-visualization-3d-rendering-services-exterior-cgi-wilshire-courtyard (2)
architectural-visualization-3d-rendering-services-exterior-cgi-wilshire-courtyard (3)
architectural-visualization-3d-rendering-services-exterior-cgi-wilshire-courtyard (4)
#2. Second & Peabody Project, Nashville, Tennessee, USA
This stunning project is a reimagined plan for Second & Peabody mixed-use development which consists of three towers, featuring various function such as hotel, commercial, parking, and residential. Three towers form a "KITE" shape to open up the views in the center of the city.
Read on the article and learn how AIMIR complete this 3D rendering & animation project in 10 days, and how the works in turn highlight the presentation!
Find out more about Second & Peabody >
#1. Riverside Wharf, Miami, USA
Keeping up with the rapid development in Miami, the Riverside Wharf, located on the river near downtown Miami, will be a hospitality-driven entertainment complex and is scheduled to open to the public in 2025.
AIMIR is excited to bring to fruition the dream and vision Miami has had for its waterfront entertainment district by creating this unbuilt Riverside Wharf photorealistic renderings. This project is divided into three phases, which were in May, September and November 2021 respectively.
Find out more about Riverside Wharf >
*Bonus: Unicorn Island, Chengdu, China
Designed by Zaha Hadid Architects, the Unicorn Island in Chengdu is a mixed-use masterplan for over 70,000 researchers, office users, residents and visitors. It includes a Start-up Center, Future Fortress, Turbine Park, and other spaces.
AIMIR was super thrilled to create the interior for the Start-up Center, a convention & exhibition place in 2018. We added this project to this year's Top10 review is because ZHA just granted to publish these fantastic renderings not long before in 2021.
Those wrap up our list of the top 10 best 3D rendering and animation projects for your inspiration and viewing pleasure in 2021. As a professional architectural visualization consultant, we will seek more amazing ways to be a story-teller of your design.
Again, Happy New Year to all of our partners, clients and audience. We wish you a healthy and wealthy 2022!