Are you looking for realistic visuals to demonstrate your skyscraper project? When designing a skyscraper/high-rise, the challenges not only lie in the safety and security. It is crucial to virtually represent your design in front of your client and stakeholders before it's built. As architects and developers embark on the journey of designing these soaring giants, skyscraper 3D rendering plays a crucial role in visualizing and conveying their vision. In this article, we'll explore seven inspiring high-rise projects, discussing the key points to consider when designing and how 3D rendering bring them to life before construction.
7 Skyscraper 3D Rendering Examples
Oceanfront Skyscraper
Oceanfront skyscrapers are like modern marvels that stand tall at the meeting point of nature and human ingenuity. Meet Villa Residence, a 55-story skyscraper in Miami, USA. Imagine walking up to the sound of crashing waves and having a front-row seat to the ever-changing moods of the sea in Edgewater from your apartment. For more design details, please read our case study of Villa Residence.
To meet our client's needs and be a helper on getting this project approved by both the owner and the city council, our 3D team used photomontage for this project. That is to say, the surrounding environment is actual photo while the structure itself is a 3D model. As to the mood, our client decided to use clear sky in the day to capture the essence of this iconic structure. Actually, daytime is one of the most often used moods in creating 3D renderings of skyscrapers.
Glass High-Rise in Chicago
This new hotel and residence is a mixed-use skyscraper in downtown Chicago. The 51-story structure has a steel and glass façade, featuring a grid of steel design down throughout the podium. On the top of the podium, this slim tower has a misaligned design, giving the building a sense of scale and unity.
This time, we chose both day and night to present this skyscraper, delivering different mood to the views. Creating different atmosphere is a good strategy to immerse your viewers into various moods of the building, boosting decision-making. As to the surrounding context, our 3D artists arranged grey messes to represent the scale instead of using actual buildings. In architectural visualization, grey messes are frequently used to emphasize on the building itself. At the same time, the scale of surrounding structures are accurately presented.
Multi-Tower Development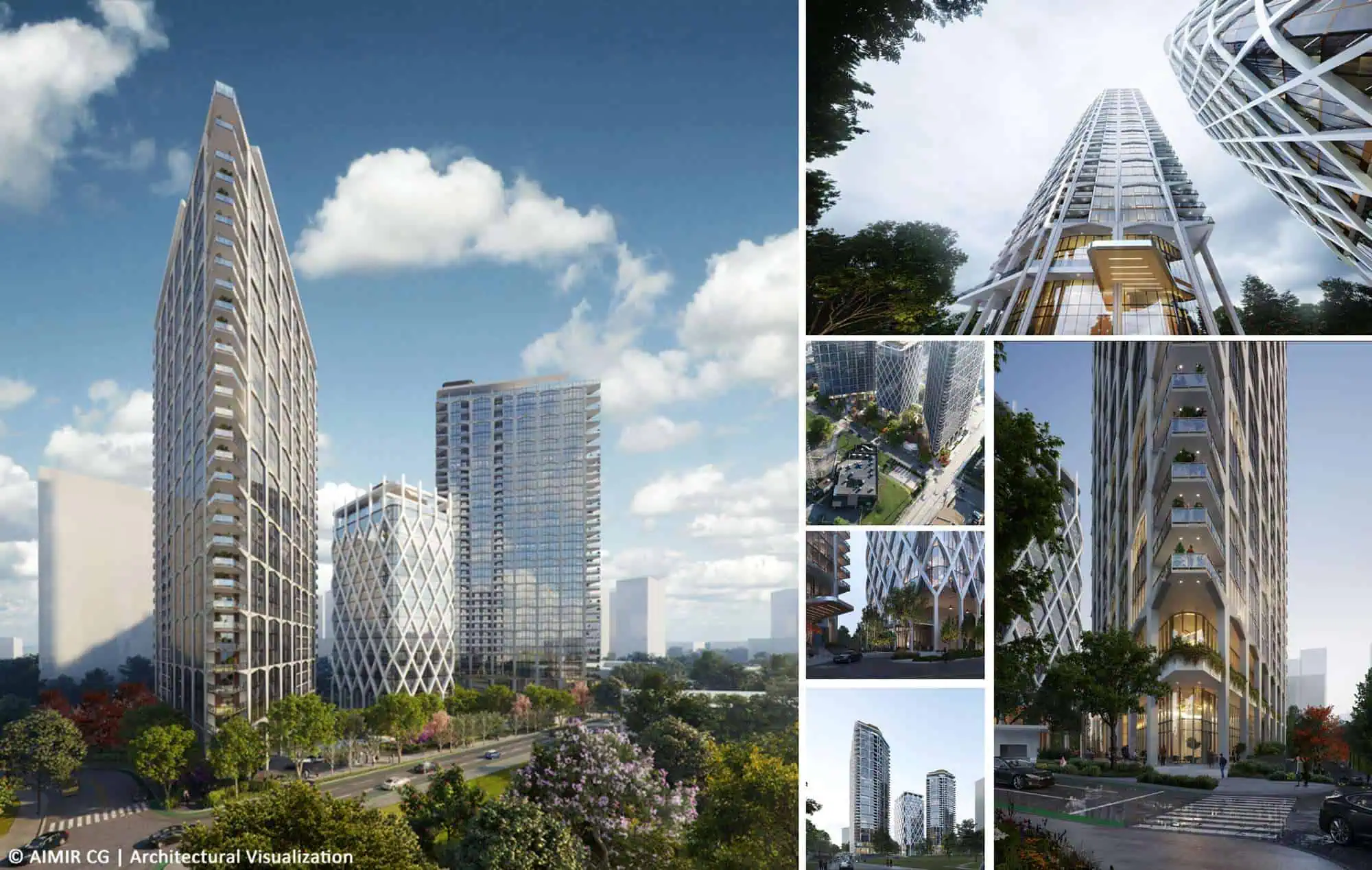 There is another case where more than one high-rises are being developed. When we met this re-imaged plan for Nashville city, our goal was to assist our client to get approval from the Nashville city. Three towers form a kite shape, and a garden is around the ground level where visitors interact.
As a professional ArchViz consultant, we're good at giving advice. For this project, it was the camera angles that we offered our suggestions. To demonstrate every aspect of the project, our 3D artists chose a combination of street view, aerial view, and bottom view. With the help of our 3D rendering services, the architect reported this project in a visually-stunning and memorable way and finally got the plan approved.
Nighttime Skyscraper in Miami
Standing tall at 954 feet above the ground, this 78-story radiant structure would be located at the southwest corner of South Miami Avenue and Southwest 8th Street and replace an existing single-story strip-mall. It features 392 units, 66,618 square feet of retail, and 464 parking spaces. We believe this tower will be a hallmark in Miami's skyline.
To illustrate our client's vision, our 3D rendering team created a nighttime rendering. In the CG visual, our 3D artists used realistic materials to depict a highly curvaceous and dynamically shifting structure. Meantime, surrounding buildings are replaced by grey boxed with the accurate scale. This is the best way to make the tower stand out.
Low-Angle-Shot Skyscraper Structure
Constructed predominantly of metal, with a hybrid system of steel exoskeletal frames and concrete cores, this 50-story features an 8-story podium and a tower with over 40 levels. The architect's scope is to create fresh urban connections to pushing the limits of the heart of the city's expansion.
As a result, instead of using a regular eye-level shot, this tower features a worm's eye view, aka low angle view. When viewed from a unique point, the tower gets a more significant and majestic view. Actually, worm's eye view is not rare in architectural visualization. As a professional 3D rendering team, we usually suggest our client to use low angle views in high-rise projects.
Cloudy Cityscape
The 65-story tower will be clad in glass and bronze and contain over 500 residential units with retail space in its podium base. Serving as a landmark, this skyscraper has a unique ability to shape the urban environment.
Along with the color tune of the tower, the 3D specialists chose to represent this building under cloudy and evening time. Skyscraper 3D rendering should combine the atmosphere with the structure design.
Skyscraper of Irregular Shape
Fostering a unique culture and community, this project consists of three skyscrapers, and the tallest stands at 566 meters above ground. The architect arranges five organically-shaped volumes to form this structure, featuring a biophilic design. For such a large development, it will provides high-end office spaces, luxury hotels, and top-quality residential units.
Starting from a single conceptual sketch, our 3D artists delivered this sleek and futuristic skyscraper in photorealistic manner. As the architect was looking for general exterior demonstration, we helped create exterior views and aerial views under different time of the day. Please read the full case study here: Tower of Africa.
Conclusion
In the ever-evolving realm of skyscraper architecture, the role of 3D rendering is indisputable. From conceptualization to construction, this technology serves as a bridge between imagination and reality, facilitating communication, collaboration, and ultimately, the successful realization of iconic structures. As we look to the future, the marriage of innovative design and advanced visualization techniques will continue to shape the skylines of our cities. At the same time, skyscraper 3D rendering pushes the boundaries of what is possible in the world of high-rise architecture.
Looking for professional 3D rendering services for your architectural project? Feel free to contact our 3D rendering company to get a quote for your project now.