Architectural visualization, or 3D rendering is used to generate images with excellent visual quality from 3D models. They can be used to sell your ideas in various occasions, such as boosting your buildings exposure, showcasing to the public, or reporting to the city.
Gadiel, from ODP Architects, bought us a brand new project in May 2021. It was a project for presentation with the city. Therefore, high-quality and realistic images would play a vital role.
To meet our regular client's needs and be a helper on getting the project approved, our team worked heartily on this challenging project. We are very proud that the Miami city had approved it and the demolition of the previous site has activated in the end of 2021. Please follow AIMIR to the journey of making of 710 Edge project, where AIMIR breathed life into the vision.
710 Edge
Situated in the heart of Edgewater Miami, 710 Edge is a 55-story ultra-luxury mixed-use building. Serving as a beacon for both residents and visitors, this stunning new tower features 70 residential units, 193 parking spaces, and 16,489 square feet of commercial and retail spaces above ground level. It offers amenities for every lifestyle with incredible views of Biscayne Bay, Downtown Miami and Miami Beach.
The development team is one of the developers of Miami's iconic One Thousand Museum designed by Zaha Hadid. The development site is located at the eastern end of Northeast 29th Street that terminates at Biscayne Bay, bound by Northeast 5th Avenue to the west.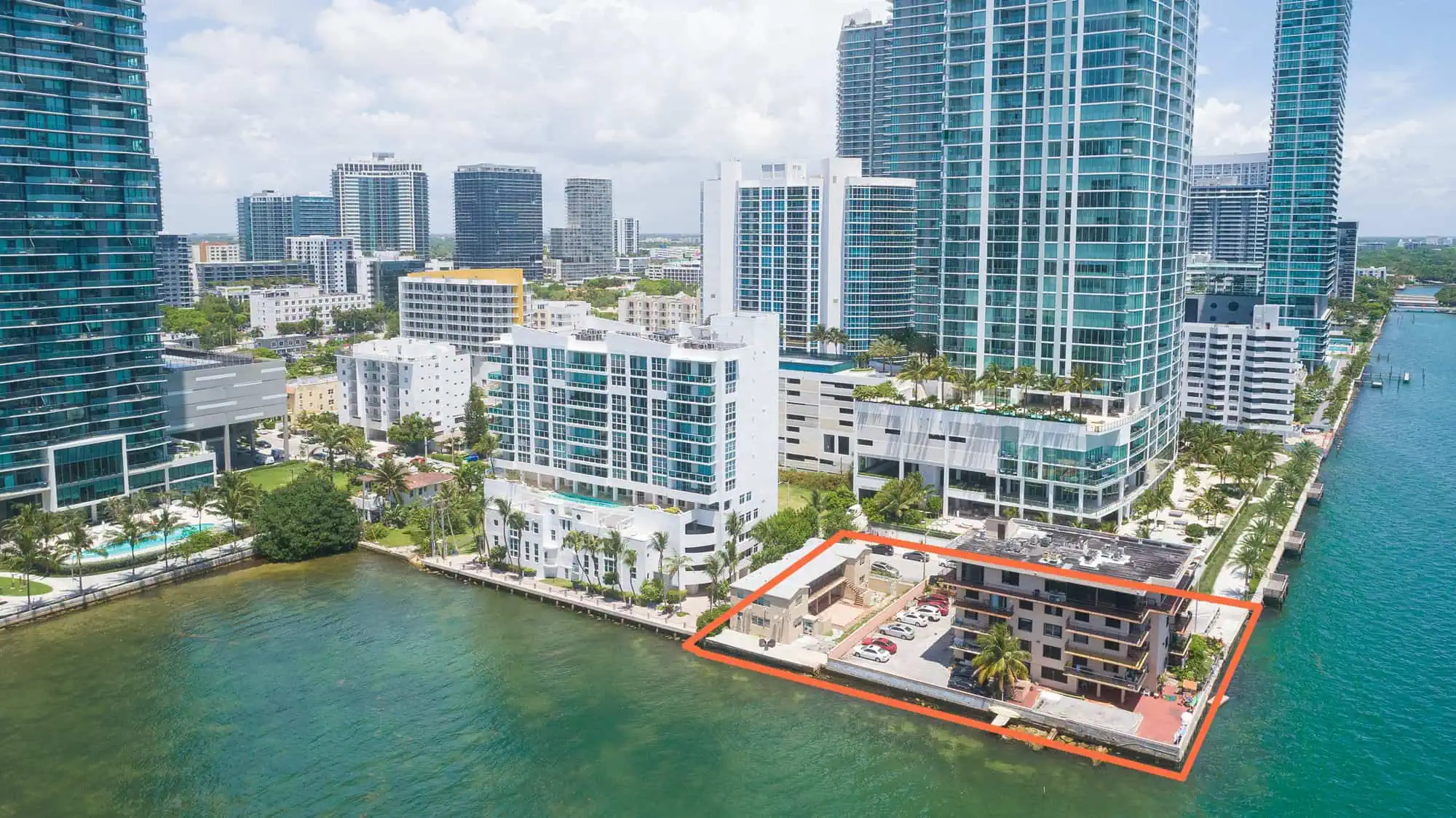 The site.
Subject property.
Join us for a thorough 3D architectural visualization process and reveal how we work to bring superlative visual works!
#1 Team Assemble
A good team is necessary and sometimes the key to the success of excellent images. At AIMIR, once a project is received, a professional team is ready to help 24/7. As Gadiel and O* Architects is one of our precious long-term partners, we have a fixed team who knows inside and out of the way they collaborate including tastes for images, working hours, and preferred method of comments.
So, the team is ready, let's get to know the project.
#2 Architectural 3D Modeling
Gadiel shared a couple of 3dm files, which are native file format for Rhinoceros. Thus, there is no need for us to build the model. Thanks Gadiel!
The model.
Refining the model came to the next. Since we used 3ds Max for this project, the first thing was to transfer the 3dm format to a 3ds Max compatible one. After this, our 3D artists focused on fine-tuning the model, until it was ready for the next step.
#3 Camera Angles
So next, we needed to choose the point of view for the images. In this stage, either the clients can come up with their preferred angles or, as an ArchViz consultant, we are happy to suggest them for the clients. The camera angles will affect the workload accordingly.
Gadiel said they hope to get some suggestions from us. So we selected some camera angles based on the fact that these images would show the vision on the presentation day.
Part of suggested camera angles from AIMIR.
Gadiel was happy with these camera angles. So, it's time to check the surroundings.
#4 Surrounding Context: Photo-composition
For this project, Gadiel was very clear in the first place that they would use photo-composition for surrounding context. It is not a surprise since they were after the most accuracy to showcase the building to the city. AIMIR has a blog regarding to surrounding context issue here: 4 Typical Methods of Dealing with Surrounding Context in Architectural Visualization in 2021.
This is going to be interesting: While we were selecting proper camera angles, Gadiel was sending a professional photographer to take site photos for composition. It meant we both received the files almost at the same time. As a result, the site photos didn't match the camera angles Gadiel's selected.
However, this was not an issue forever. Gadiel immediately sent the photographer again to retake site photos that would match both the camera angle and the mood.
Final site photos.
Our 3D artists checked the photos, and the model fit perfectly with the accurate angle and desired mood. This is because the final 3D rendering's mood will be the same with the photo's.
#5 Texture & Lighting
Proper texturing and lighting is crucial to a photorealistic and eye-catching 3D rendering. It is the materials and lighting that bridge the gap between the model and reality. Thus, to apply materials and lighting that meet the references became the main challenge here.
Elevations.
Material boards.
Gadiel, a perfect partner to work with, had shared all references concerning textures and lights. To achieve the effect, our 3D artists adjusted textures and materials that added a certain realistic effect to the model.
Since we were using photo-composition for surroundings, the comparison of textured model and site photo is:
3D model in the site photo.
This slender superstructure tower is standing out among other high-rises in the neighborhood with its unique fluid curves and its distinctive exoskeleton on the exterior. Consequently, how to address these highlights became the most important issue when dealing with textures.
Our aim was to create the perfect concrete framing structure, dark tinted laminated glass, dark grey anodized aluminum, and clear glass handrails along the balconies.
Plus, the landscape was clearly listed in the plan. We simply added the right plantation at the right spot, making them aligned with the whole image.
Part of plantation plan.
Once everything is set, high-res images are ready to output. This process may take from an hour to a couple of days, depending on the quality of the image. When it's done, we can move on to the final step.
#6 Post-production
This is the final stage of the architectural 3D rendering process. Photoshop is the main tool throughout the process. During this process, 3D artists will focus on the brightness, contrast, depth and special effects. On top of these, adding people, small objects, and some plantation can be involved in as well.
Because this project concentrates on aerial views, there aren't many close shots. We took extreme carefully on the details of the images, such as the lighting effects, activities on the balconies, glass reflection and indoor lighting.
#7 Summary & Survey
At AIMIR, we provide after-delivery services. After completing a project, we'll go through the whole process and summarize possible issues and any improvement for future collaboration.
#8 After Delivery Services
We understand the changeable nature of design community. Thus, we offer free modification services after the project is delivered. This applies to minor modifications only. Other modifications are available upon charge.
You're welcome to read our Service Guide here: AIMIR's Ultimate Service System Guide.
Please enjoy our 3D renderings for 710 Edge project in Miami, which accelerated the approval process and satisfies the client's needs.
Stories After
The 710 Edge Project was approved by Miami city, and the demolition was activated late 2021. Although Gadiel bought us some news about revising some designs when we're composing this case study, it will be unknown future. We'll share another story if there is phase two or something.
Above are 6 steps for architectural 3D rendering process. As you can see, it allows architects more opportunities to showcase their vision and get the plan approved. AIMIR is super proud and excited to create 3D renderings for this stunning project. If you want to talk about this project or have upcoming projects, talk to us and our professional architectural visualization studio is here to help!