One of our precious clients from the Republic of Maldives, Anantara Hotels, Resorts and Spas keeps in bringing the world exciting seaside resorts and clubs. They never stop pursuing the natural power of building places for people to escape, revel or play. This time, they brought us another wonder world in Veligandu Huraa, Republic of Maldives, a beach resort to embrace the extraordinary.
For the past two years, we've been helping Anantara to build the unbuilt with our powerful 3D renderings for their marketing. Today, we'd like to share the 3D rendering process of this project. Check it out!
Anantara Veli Maldives Resort
Situated on a beautiful island fringed by a turquoise lagoon, the Anantara Veli Maldives Resort is a luxury destination. It features 67 villas, 2 restaurants, a bar, a SPA and other entertainment facilities.
The Boduhuraa Island.
To illustrate this wonderland, Giles from Anantara Group planned to have 17 images, namely:
Three images per villa, one looking in, one looking out, and one bathroom. There are three villa types: Deluxe Overwater Villa, Deluxe Overwater Pool Villa, and Beach Pool Villa. That's nine images in total;
Two images for the SPA;
Two images per restaurant: Origami and 73 Degrees, and that's four images altogether;
Two images for the Dhoni Bar.
Having this super clear scope in mind, let's get started!
There is an extreme lovely cooperation pattern between Giles and us. Since we've been working together for nearly two years, we are able to understand each other easily and always on track. On the first day we started the project, Giles had sent us a bunch of files regarding this resort.
To help us understand the project more, Gile's references are detailed and well-organized. As a result, we've got:
The 3D model and the camera angles needed;
Material board;
The exterior material instruction for one of the villas.
Floor plans and elevations;
Floor plan for Dhoni Bar.
Site photos for a better picture of the place.
The goal of our 3D renderings are crystal clear: to market this travel destination. As a key tool of marketing in hospitality, we're confident with our 3D visuals winning the battle. What is the 3D rendering process then? How long does it usually take? How should it get started? If you're looking for working with an ArchViz team for the first time, we believe this blog is a help for getting know the details during production.
3D Rendering Process
The very first thing our 3D artists did was sorting models and setting camera angles. Gile provided 3ds Max models with their custom-tailored furniture. What we did was to fine-tune them and selected some camera angles based on their request and our professional experience. In particular, we provided more views than they asked. This is a good way because our client will have more choices and have more perspectives to see what the project will be presented.
For one of the restaurants, we carefully selected four views for them to choose two out of.
Finally, Gile's team decided to add more views. When they received our suggested views, they believed that adding the views would be a better way to demonstrate the resort, which in turn would boost the marketing. As a consequence, five more views were added which totaled up to 21 views.
The next stage is to apply textures and materials, and set the lighting. Because we've worked with Anantara's and created seaside resort projects for the past two years, we know clearly their preference for 3D images. Thus, we directly created the rendered and post-produced final drafts.
Gile's team absolutely loved these renderings, as some of them were set as final images on the spot! There were only a couple of additional comments on parts of the drafts:
Change the landscape and vegetation for the two restaurants based on the site photos he just sent. This is for accuracy.
Make the color of wood material darker in all interior images.
Our 3D artists made all the requested corrections immediately in 24 hours, and the final images were all set!
The 3D Rendering Results
Here are the final images for Anantara Veli Maldives Resort which delivered in 4K resolution.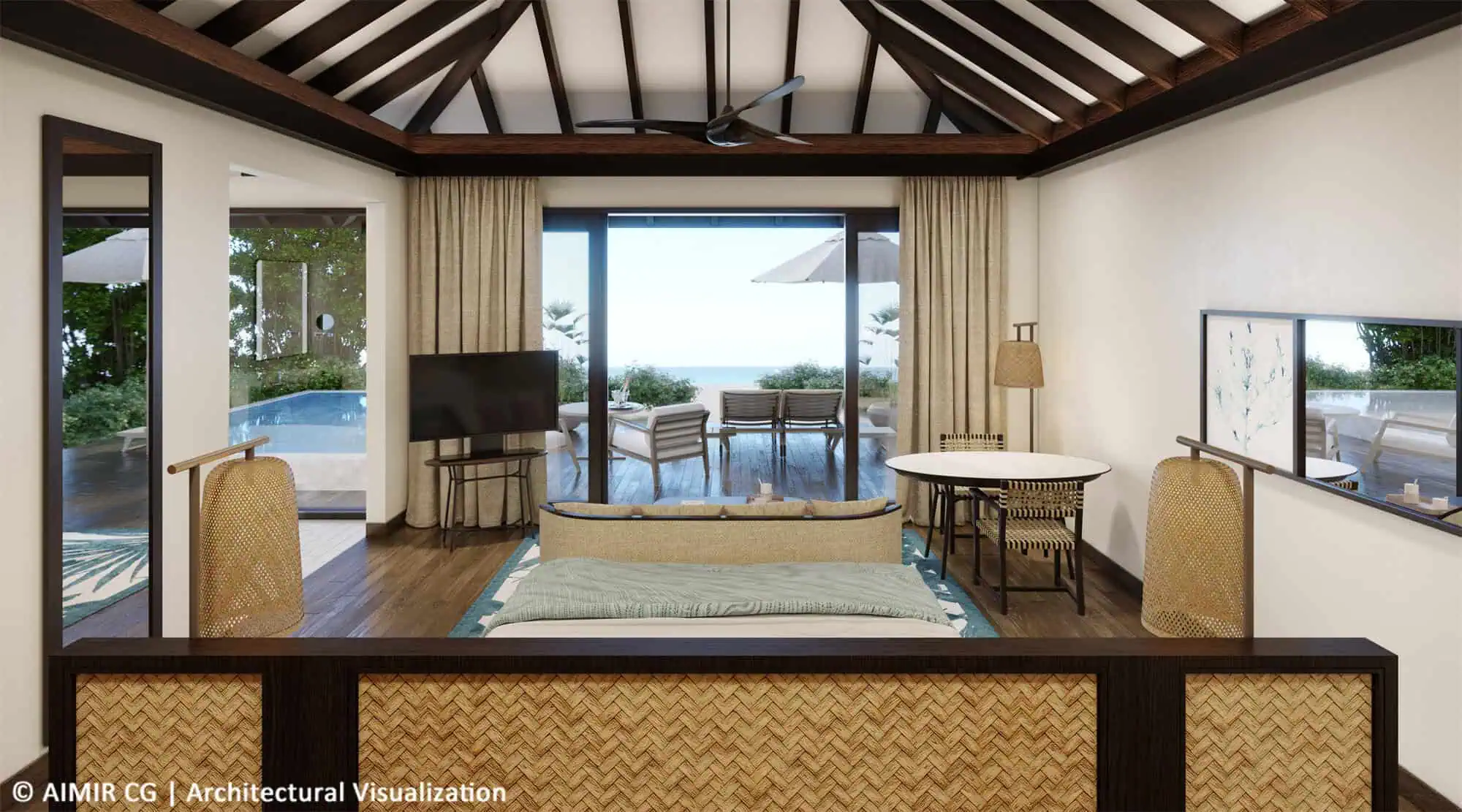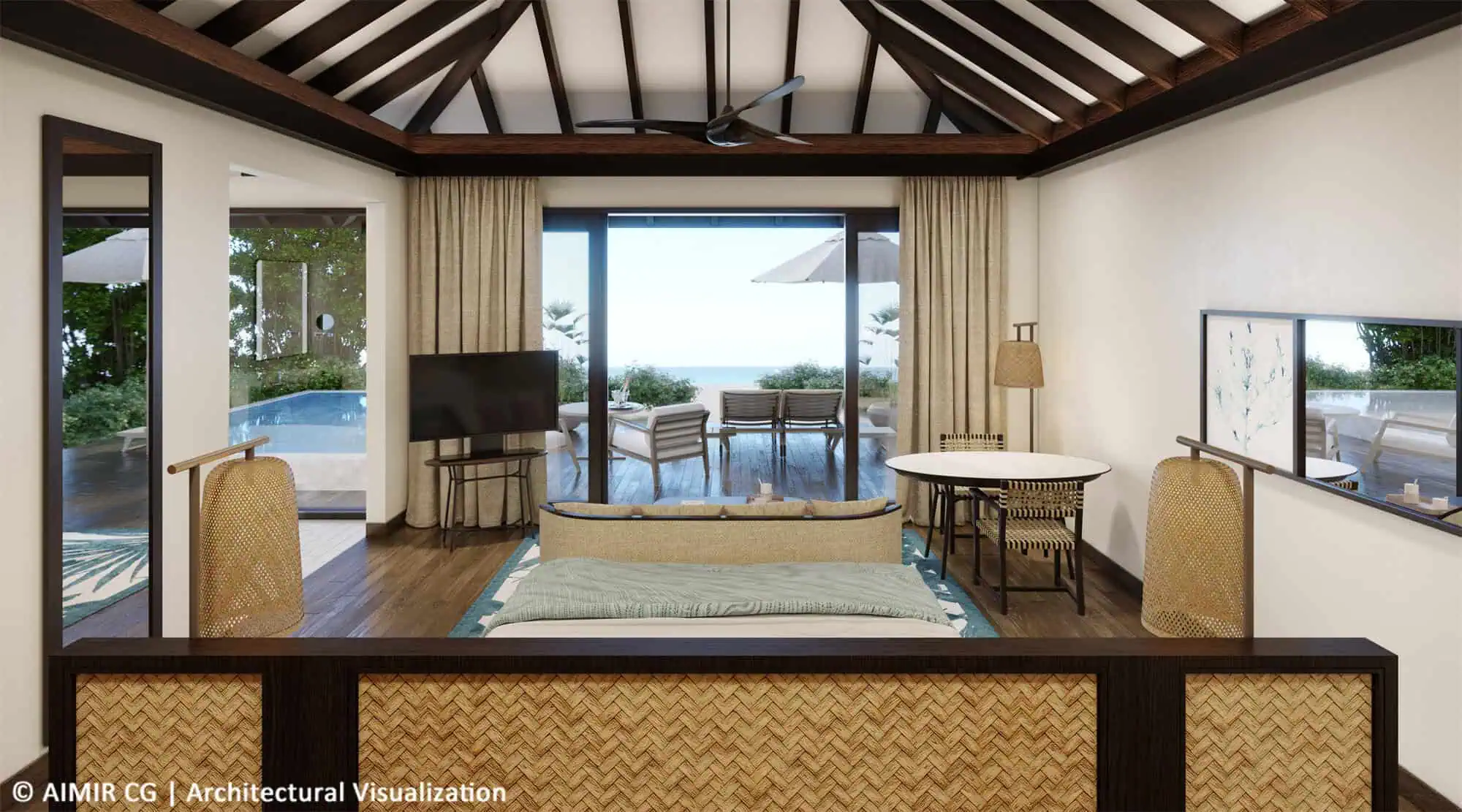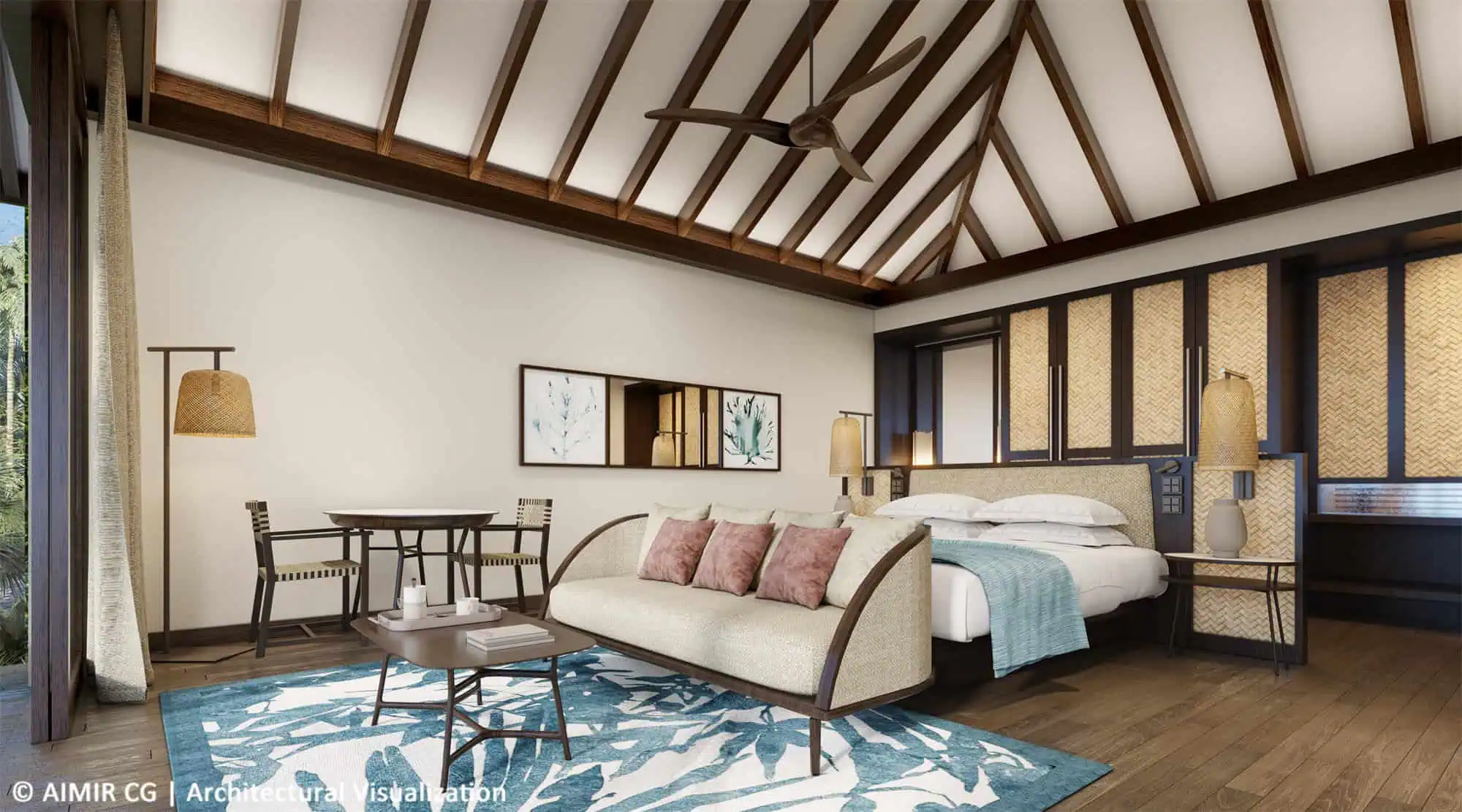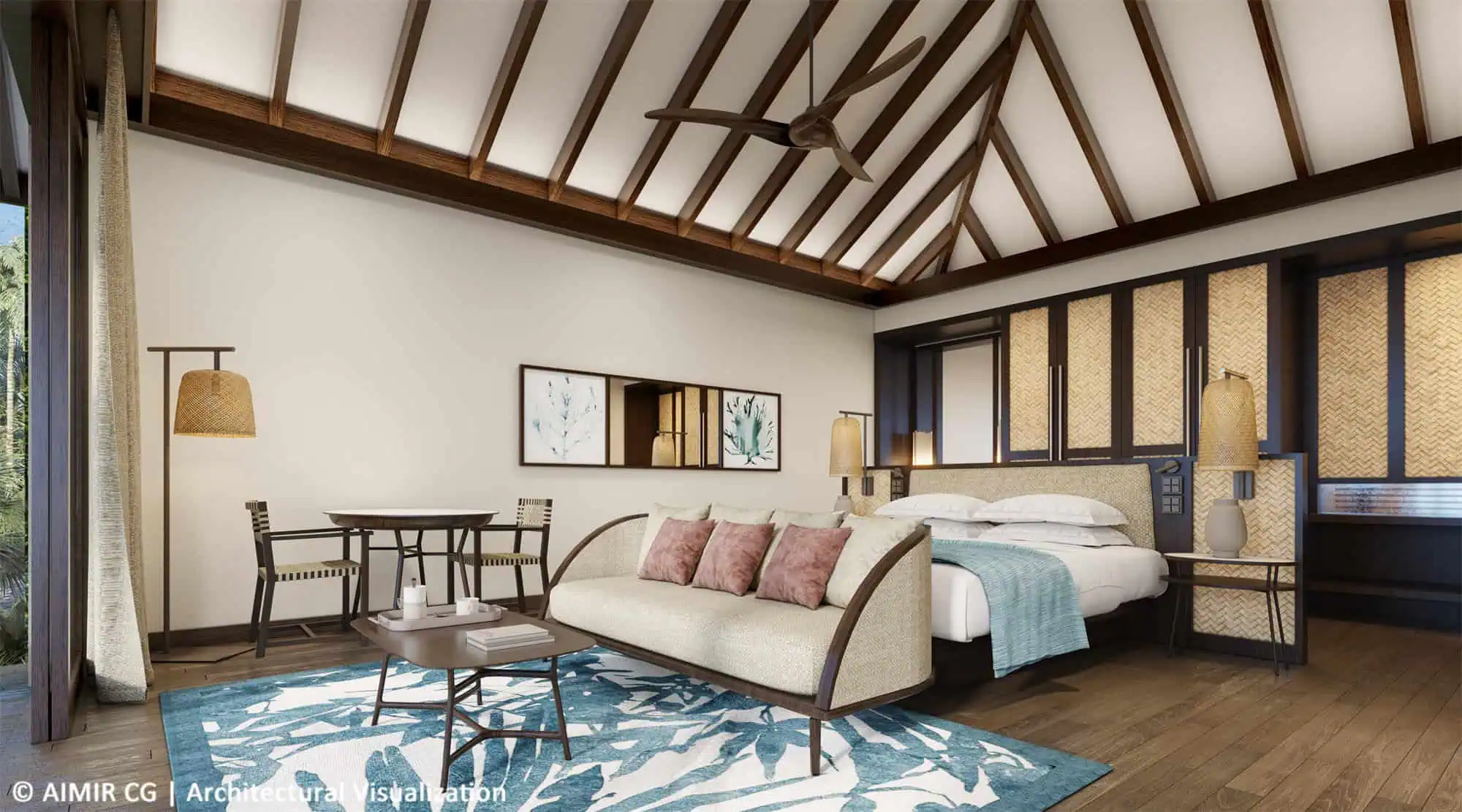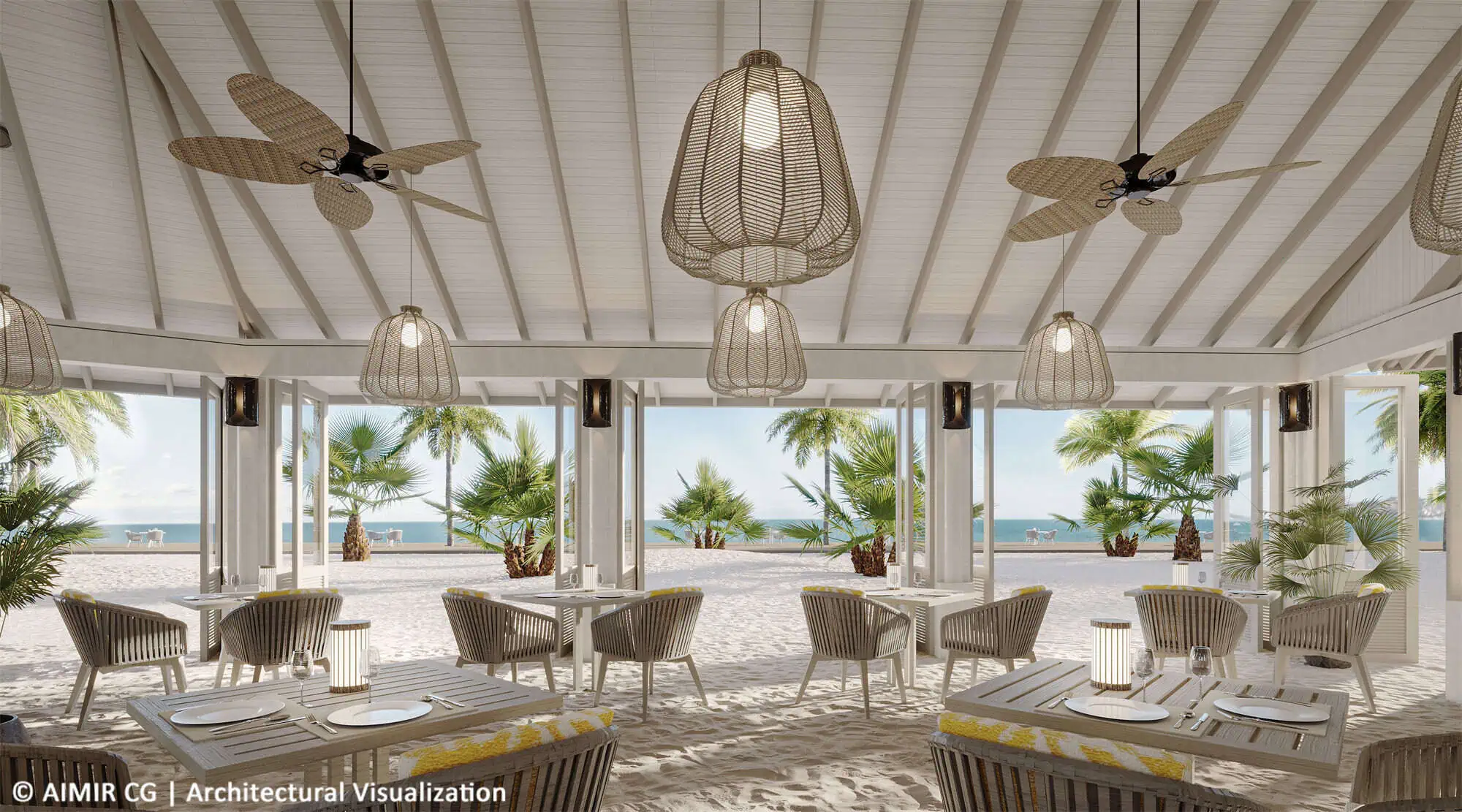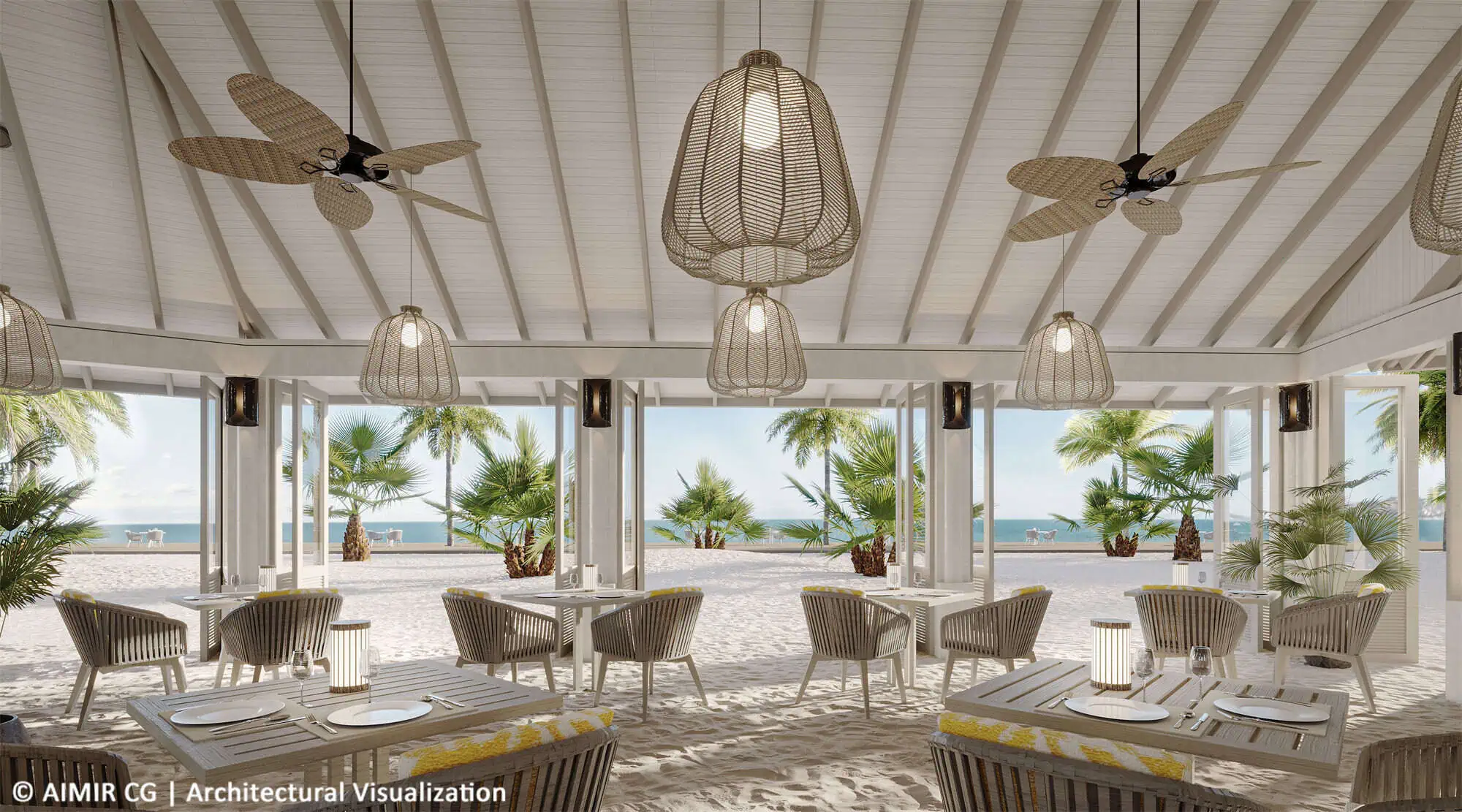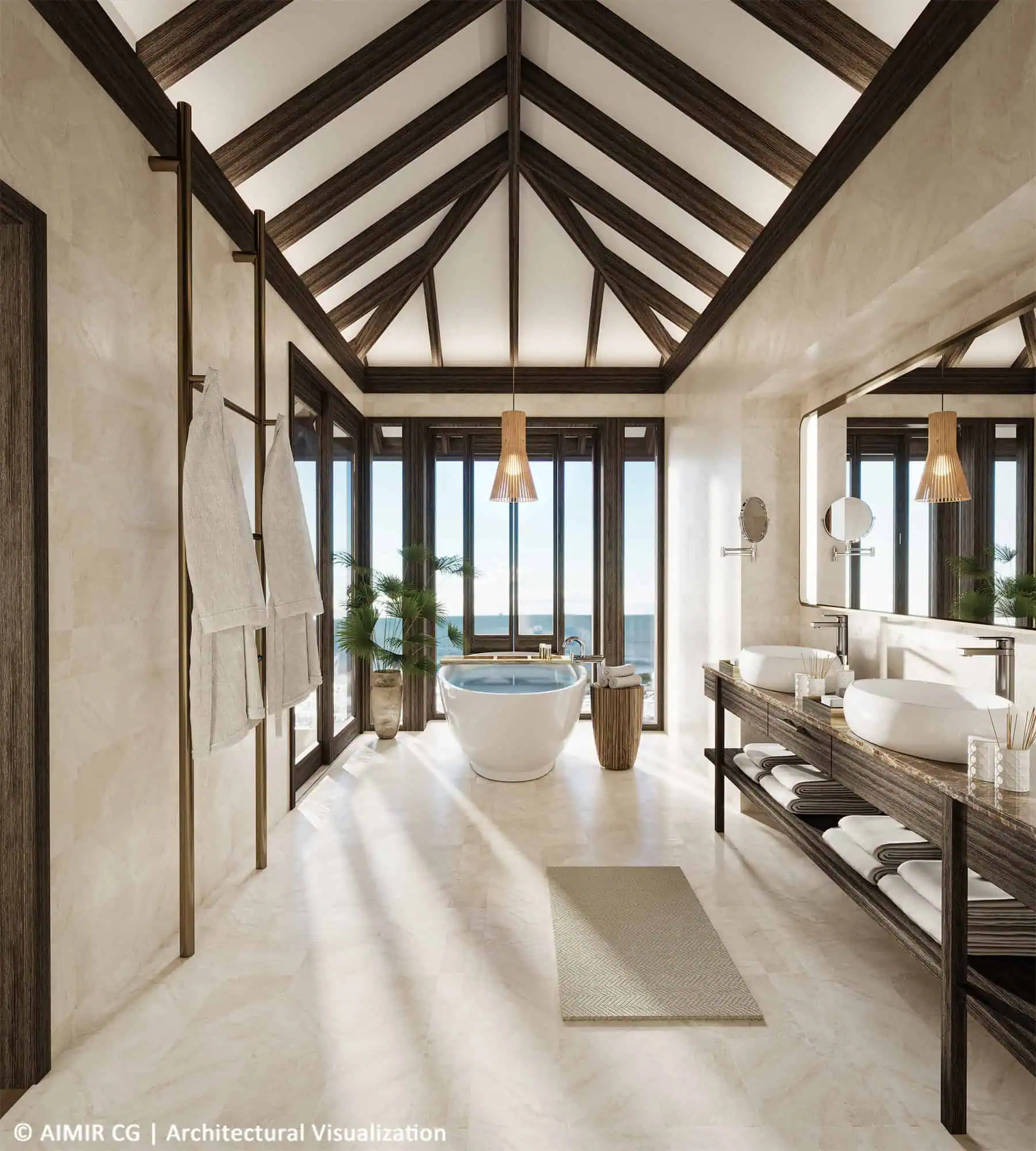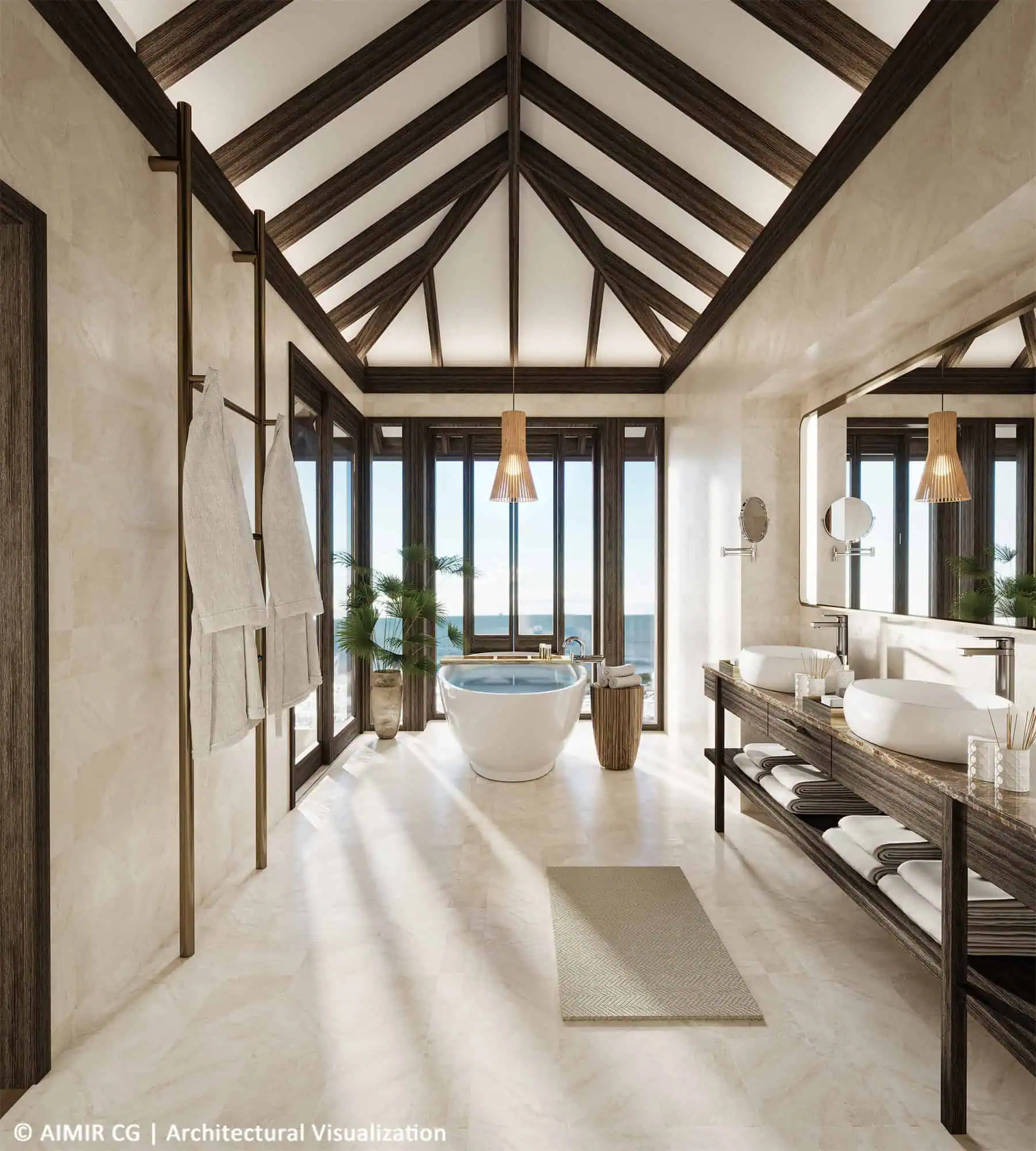 Deluxe Over Water Villa-Bath (3)
Deluxe Over Water Villa-C1 (2)
Deluxe Over Water Villa-C2 (2)
Deluxe Over Water Villa-shower area
Deluxe Overwater Pool Villa-C01 (3)
Deluxe Overwater Pool Villa-C02 (4)
Deluxe Overwater Pool Villa-C03 (3)
Change of Plan
Right after the final delivery, Anantara team came up with a request. They're hoping to change the design of the bathroom in the Deluxe Overwater Villa. In the new plan, they want to:
Replace the glass panels on the left with shower spaces;
At the same time, remove the bathtub;
Move the towel rack to the rear of the room.
The change was not involved with much workload, so we created the new bathroom view for free within a day.
Previous design vs. new design.
This is not the only project we provide free modification services, although there will occur fees under certain circumstances. When we will charge for modifications? Please refer to our blogs about changing design and fees: Four Typical Scenarios Concerning Extra Charge during the Rendering Process.
Marketing with 3D Renderings
Now these 3D visuals are posted on their website to introduce this wonderful resort. We believe our 3D renders will be an elevation of their work. It is always a smart choice to use photorealistic 3D works when market your product or service!
Looking for a powerful tool to market your product or service? Talk to our professional 3D architectural visualization studio and your business will be half the battle!