3D Architectural Animation Services
The fact is, a majority of people who don't know
WHO HAS THE NEED FOR 3D ARCHITECTURAL ANIMATION SERVICES?
Innovation-Based 3D Technology is ahead of the curve
Nowadays, a single image from a fixed point of camera angle is not enough to give an interactive and engaging experience of what the project will look like. A 3D architectural animation will do, and it is a form of cinematic visualization. Therefore, keeping up with the latest technological advances acts as the key to the interior and exterior design business – you wouldn't like to miss how charming the unique 3D animation, would you?
3D Animation Brings your Projects into Realistic Virtual Space
If you want to demonstrate the story behind the project in a visually-stunning and memorable way, architectural 3D animation can show an in-depth look at the proposed property. When your sales goal or presentation are to get people's attention, quality 3D animation can make the difference and is meant for that purpose.
Interactivity is visual immersion
Have you ever experienced a movie in IMAX 3D a VR game? If you did, can you share what the most impressive thing blowing your mind? Very likely, people can be fascinated entirely in the moving process and the immersive experience. Architectural 3D animation can be a powerful visual tool, from integrating modeling, compositing, and animation expertise to bring abstract concepts to life.
A Small Section of Our Latest 3D Animation Work
It's our mission to deliver the product you've been expecting.
3D ANIMATION SERVICES WORKFLOW
STEP 1. STORYBOARD/CAMERA PATH
This is an optional stage for large scale projects where we search for the best way to present your product or project.
We work together on the main concept and idea behind the video, to further develop the concept we use for the storyboards or photo collages. They give us basic understanding about timing, characters, objects, cameras, narrative.
Our goal is to catch viewer's eyes, to create emotional resonation and touching atmosphere. Also at this stage, we collect image and video references which help us convey our idea.
* You will be required to sign the storyboard confirmation before moving to the next stage.
STEP 2. 3D MODELING PHASE & CAMERA SETUP
a. Analyze CAD plans, sections, etc. for technical details of project
b. Create 3D models
c. Create 3D environment
d. Setup scene layout
e. Create additional and supporting details
f. Determine the number of cameras to be created according to the Animation Sequence provided by clients
g. Create and set cameras
h. Create camera animation rigs and paths for animation script
i. Set the timelines and durations of shots per camera
Since animatic looks really sketchy it accompanied by mood references usually.
STEP 3. KEY FRAMES (TEXTURING, LIGHTING, SCENES ETC.)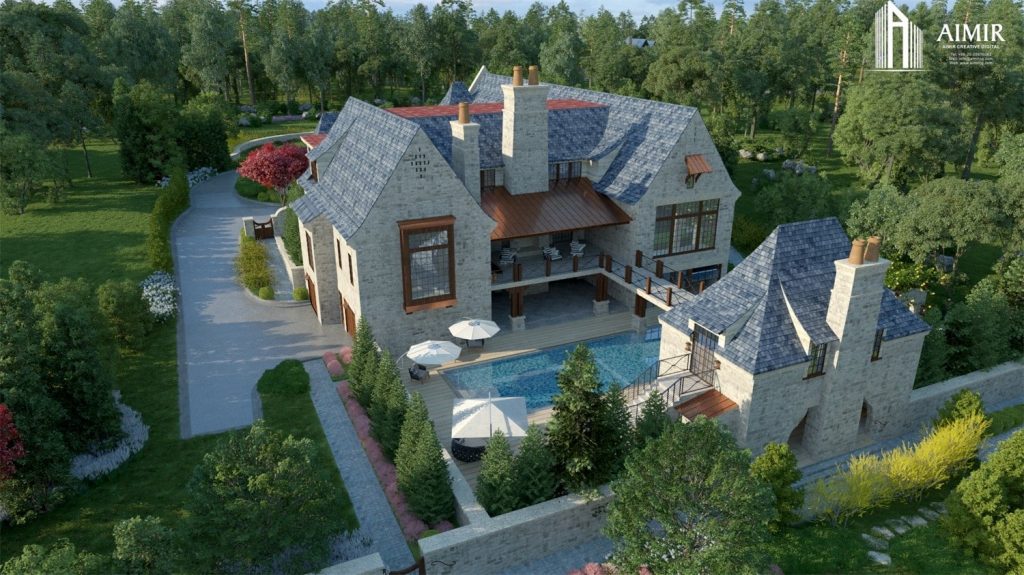 a. Set the color theme of the environment, buildings, exterior, interior, and associated models
b. Texture the environment and 3D models
c. Exterior day mode lighting setup
d. Interior mode lighting setup
e. Background music for the animation
References of materials and textures will help us greatly to speed things up. We also add vegetation and nice details into the scenes.
* You will be required to sign the model & camera path confirmation before moving to the next stage..
STEP 4. 3D RENDERING, MOTION GRAPHICS (PARALLEL TASKS)
a. Create raw 3D output data for compositing
b. Visual effects
c. Motion graphics
d. Transitions
STEP 5. POST-PRODUCTION
STEP 6. AUTHORING AND DELIVERY
Final video on the required resolution. 8-bit/16-bit color. MP4 or MOV format.
STEP 7. PROJECT SUMMARY SURVEY
After we finish every project, we always do a summary for go over the problems, if there is any, and think about how we can do it better next time. You will also be asked to fill a Client Satisfaction Survey to rate our service and provide feedback. All are aimed to provide you better service next time.
Let us know if you've got an interesting project and want to work together!